Manila trash becomes hot London fashion item
MANILA, Dec 1, 2009 (AFP) - At a warehouse near Manila's infamous Smokey Mountain dump, slum-dwellers working for a British-led charity are turning rubbish into fashion items that are proving a hit in top-end London shops.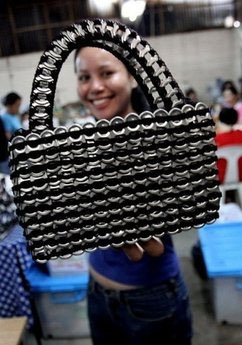 Photo: AFP/Jason Gutierrez
Under a dim fluorescent lamp, amid the constant humming of sewing machines, about 20 women cut pieces of cloth and other materials found amid the garbage to make teddy bears.
Others are busy putting finishing touches to handbags and purses made from discarded toothpaste tubes, while glossy magazines are turned into colourful bracelets.
"This bag costs about 100 pounds sterling (165 dollars) or more in London," said Jane Walker, a former publishing executive from Southampton who gave up her lavish lifestyle in 1996 to set up the Philippine Christian Foundation in Manila after seeing the plight of the poor here.
Walker said about 200 bags were currently being shipped to boutiques in London, and the foundation was unable to meet demand.
"I had to turn down three shops in London ordering our products because we keep running out."
Walker said a deal to supply a major luxury chain was also in the works, while negotiations were underway with an American firm to produce shoes and slippers using discarded car tyres.
Known in the local press as Manila's "angel of the dumps" for her work among the scavengers of Smokey Mountain, the 45-year-old single mother's tireless efforts have helped entire families rise above crushing poverty.
Last year, she was made a Member of the British Empire by Queen Elizabeth II in honour of her work.
Relying mainly on corporate donations, the non-profit foundation provides livelihood projects, health services and free education to children of families living on the dumpsite.
Covering a sprawling area in Tondo district near Manila Bay and just a few kilometres (miles) from the presidential palace, Smokey Mountain has come to symbolise pervasive poverty in this Southeast Asian nation of 92 million people.
An entire colony of squatter families lives off the dump, which got its name from methane gas-induced black smoke billowing from the mound.
While parts of the site have been levelled to make official settlements over the past decade, a large portion remains a permanent open dump for tonnes of daily refuse from Manila's 12 million inhabitants.
Before Walker set up her foundation, swarms of children and entire families would descend on the trash, scavenging for items to sell at junkshops.
The thousands of people living on Smokey Mountain had no other way out, and the few pesos earned from a day's gruelling work was spent on food.
Many still do scavenge.
But through Walker's efforts, a school was built, an abandoned warehouse was transformed into a livelihood centre where hot meals were offered and the children were given a semblance of a normal life.
Then, when the global financial crisis hit last year and many donors cut back on corporate social responsibility work, Walker was forced to find creative ways to raise new funding.
She came up with the idea of turning trash into fashion accessories and began getting members of the community, mainly mothers, to start sewing together ring tabs from aluminum cans into tiny purses.
She then expanded the project to include laptop and shoulder bags for women.
Other products soon followed -- necklaces and bracelets from colourful magazines, and stuffed toys from readily available material from the dump.
"The magazines are cut into triangular shapes and glued and rolled, keeping the brightly coloured part as the last part to roll so the beads are more interesting," Walker said.
"The beads are then dipped in clear varnish and later assembled into jewellery."
The products were first sold to friends, but then found their way into a specialty store carrying eco-friendly fashion in Manila's upmarket Makati financial district. Soon, there were orders from shops in London.
"The mothers come up with their own designs, they are all very creative," she said.
At any given time, about 40 families are directly employed by the foundation, with each earning at least 3,000 pesos (65 dollars) a month -- far more than they could earn from picking trash alone.
"This has helped me a lot because I can work and watch my grandchildren go to school," said Martha Dominguez, 60, as she delicately put together a stuffed toy.
"We lived surrounded by trash all our lives, not knowing that we could have made it into money."
Walker said the project gave the people involved more than just income.
"There is a big social angle to the project. Many mothers consider mastering the techniques in making bags their biggest achievement in life," she said.
Proceeds from the sales are not enough to sustain the foundation's entire operations but they have helped fill a void left by the donor slump.
"We will never be 100 percent financially sustainable, but if we can aim to be at least 50 percent self-sufficient, then we can expand the work we are doing," Walker said, adding the long-term goal was for the organisation to have its own boutique in Manila.
Meanwhile, Walker and her staff are busy trying to expand the fashion line.
"We are always taking in stuff from the dumps. Right now, I'm trying to figure out how to use old piano keyboards as a design on a hand bag," she said, briefly pausing before her eyes lit up.
"Ahh, I need to drill holes into them first."by Jason Gutierrez
Copyright © 2023 AFP. All rights reserved. All information displayed in this section (dispatches, photographs, logos) are protected by intellectual property rights owned by Agence France-Presse. As a consequence you may not copy, reproduce, modify, transmit, publish, display or in any way commercially exploit any of the contents of this section without the prior written consent of Agence France-Presses.