Mandy Moore reveals greater gifts with "Wild Hope"
Mandy Moore
Album: Wild Hope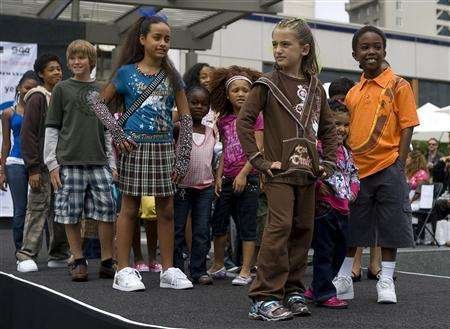 Single: Extraordinary
NEW YORK (Billboard) - Even though Mandy Moore's first musical exploits were as a teen during the 2000 bubble-gum boom, she appeared to possess greater gifts that lent promise to adult artistic potential. Consider upcoming album "Wild Hope" the 22-year-old's musical coming out -- and first single "Extraordinary" every guest's take-home party favor. Moore's once-girlish vocals now project a richer, more purposeful texture, well-suited to the autobiographical theme: "I was a starling, nobody's darling/Now I'm ready to be extraordinary." Thankfully, she steers clear of disintegrating into another perishable rhythmic ringleader, with brawny guitars and strings that are surprisingly heady.
ARTIST: NAS
SINGLE: CAN'T FORGET ABOUT YOU
On the second single from "Hip-Hop Is Dead," Nas rhymes a hip-hop chronicle over a sample of Nat "King" Cole's "Unforgettable," reflecting on moments in music and sports from the '80s and early '90s. Accompanied by Def Jam R&B newcomer Chrisette Michele and production by star helmer Will.i.am, "Can't Forget About You" catapults Nas to the top ranks of rap storytellers. Nas continues to push listeners to embrace rap for its lyrical content and not as a violent spectacle with unauthentic gangster characters. If today's audience is willing to take a four-minute triptych through time, it will leave with a sense of enlightenment.
ARTIST: CARLY SIMON
SINGLE: YOU CAN CLOSE YOUR EYES
New music from Carly Simon qualifies as an event. The debut single from top 20 album "Into White" perhaps epitomizes a glance into the veteran artist's current place in life, featuring her children Sally and Ben Taylor. "You Can Close Your Eyes," which Simon produced -- and ex-husband James Taylor (the kids' papa) wrote -- sounds like an acoustic folk performance recorded live in a coffeehouse. But what it boasts in familial harmonies, it lacks in recognition of Simon on the recording, making it a challenge for radio to reintroduce audiences to a beloved voice. Without her upfront presence, it appears to be more of a vanity single than a play for the airwaves.
ARTIST: KELLIE PICKLER
SINGLE: I WONDER
The second single from Kellie Pickler's striking debut, "Small Town Girl," rips a page from her diary. The "American Idol" finalist co-wrote this revealing ballad about her mother, who left when Pickler was a child, and the artist now has no contact with her. In the lyric, Pickler reflects on missed moments (braiding hair, getting ready for prom) and wonders if her mother ever thinks about her. The most powerful music is that which draws from real life, and this is heartbreakingly honest and vulnerable. Yet among the hurt and confusion, Pickler emerges as a survivor. Country music at its finest from one of the format's most impressive new talents.
ARTIST: MERCYME
SINGLE: HOLD FAST
In the spirit of indelible crossover ballads from Rascal Flatts and Lonestar is the second single from Christian band MercyMe's "Coming Up to Breathe." "Hold Fast" is a return to form following the Barenaked Ladies-like uptempo frolic "So Long Self," which hit top 20 at AC. Akin to the group's "I Can Only Imagine," the new single packs an emotional wallop with lavish, cloud-sweeping orchestration and a no-holds-barred vocal from lead Bart Millard. At the bridge, "Hold Fast" unexpectedly takes off with a machine gun tempo that pays homage to ELO. The positive lyrics assure that "Help is on the way/So hold fast," which is a sweet icing to this track.
ARTIST: 30 SECONDS TO MARS
SINGLE: THE KILL (BURY ME) (2007 POP VOCAL)
Who you calling a teen actor? It took time, but Jared Leto's 30 Seconds to Mars has not only gained rock credibility, it is now setting records for the longest-charting single ever at modern rock, spending 50 weeks in the top 40. Smelling the fair fragrance of mainstream success, that song has a new vocal designed to seduce top 40. No denying the potency of "The Kill (Bury Me)," which, by comparison, makes pop/rock statesmen Nickelback sound like an ad for Xanax. Leto is an authoritative vocalist, and the song kicks rock ass -- no one would ever accuse it of being a deliberate pop crossover -- but a palpable melody and addictive chorus create a contender to make the grade with top 40 minions.
ARTIST: RIGO LUNA
SINGLE: SI TU TE VAS
Spanish R&B didn't exist as a genre until the reggaeton explosion gave rise to Latin urban radio. Now a crooner like Rigo Luna has a place on the airwaves, and that can only open doors for other sexy balladeers. Luna's boy band vocals are refreshingly low-key on this slow jam and the defined pacing on the hook makes for an intriguing, well-crafted groove, while "wah-wah" synth production doesn't stand in the way of a seductive beat. It remains to be seen whether straight-up R&B in Spanish will stick, but judging by women's rabid enthusiasm for Luna's opening performance for Don Omar in Los Angeles last fall, the market could be ready for just such an artist.
Reuters/Billboard
© Thomson Reuters 2022 All rights reserved.