Made-in-France espadrilles fight off Asian copies
August 24 - They're cool, they're fashionable and they're very, very French, but espadrilles are fighting an uphill battle against cheap Asian imports which are threatening the longheld domestic industry.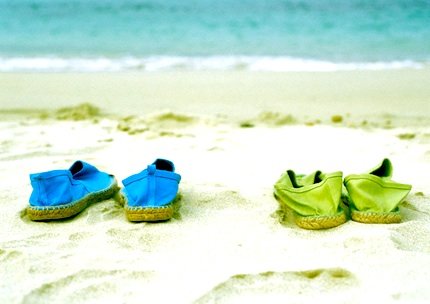 This year espadrilles have become a designer pick. - photo: corbis
At the base of the French Pyrenees, in Basque country, lies the small municipality of Mauleon-Licharre where shoemaking, and the production of espadrilles, is a centuries-old tradition.
"Capital of the Espadrille" is how the area advertises itself, although Catalonians across the Spanish border can boast of a similar heritage.
The lightweight fabric shoe with a woven hemp sole made its first appearance in the area in the mid-18th century, becoming the choice of soldiers and others who appreciated the shoe's flexibility and low cost.
While espadrilles have long been a summertime staple -- Audrey Hepburn, Grace Kelly and Pablo Picasso all favoured the casual look -- their popularity ebbs and flows with fashion.
But this year they've become a designer pick, appearing in glossy magazines and on the catwalk of haute couture atelier Lanvin.
Today the French buy five to six million pairs of espadrilles a year, from the most basic to the most stylish -- wedge-heeled versions are considered a key part of a fashionable woman's summer wardrobe in Paris -- but 80 percent come from Asia.
Less than 20 percent come from the Mauleon-Licharre region.
"We've seen espadrilles hit the market at excessively low prices," said Jean-Pierre Errecart, the 71-year-old founder of Prodiso, one of the last businesses in the industry.
He said some French shoemakers at first reacted wrongly by trying to fight the new competition by lowering their quality.
But now, the region's shoemakers are waking up to their strengths and trying to better market their handiwork while showcasing their long history with the shoe.
According to one local manufacturer, the espadrille has ancient roots, having been worn by the troops of Hannibal, who copied the footwear of mountain farmers and other inhabitants of ancient Gaul.
Workshops in Mauleon-Licharre have been exporting to as far away as South America since the late 19th century.
"We had a boom during the 1920s, 1930s, because miners in the north of France received a pair of espadrilles every week in their kit," said Errecart.
But once espadrilles were abandoned by miners in the 1950s, the industry hit its first slump. It got worse in the 1970s as footwear companies turned to China for low-cost manufacturing.
Today, Mauleon-Licharre counts just 80 employees making espadrilles versus some 1,600 from 25 businesses that churned out seven to eight million pairs a year in the industry's heyday.
Companies like Prodiso and Don Quichosse still make their shoes entirely by hand, while others such as Tauzin have added some type of mechanisation to ramp up their distribution.
The mayor of Mauleon-Licharre, Michel Etchebest, wants to polish up the industry's image after it was tarnished by some companies who in past years boasted of their authenticity, while manufacturing in faraway places like Bangladesh.
The area wants to have "Mauleon" registered as a brand name to connote authenticity, and Etchebest envisions a "House of Espadrilles" where visitors can see how the handiwork is done.
"It's about keeping our head held high as we emerge from this major crisis in the industry," he said. "That will bring us more renown, and then we'll start to see a new fascination for espadrilles."
(Additional reporting and writing by Alexandria Sage; Editing by Catherine Bremer)
© Thomson Reuters 2021 All rights reserved.