Luxury watch maker Ulysse Nardin premiered US flagship
Luxury Swiss watch manufacturer, Ulysse Nardin, held the grand opening of its flagship boutique in the United States at the Boca Raton Town Center Mall on December 16, 2010, with over 400 attendants.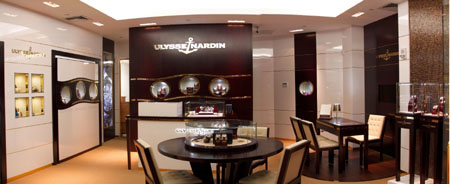 Ulysse Nardin flagship boutique in the Boca Raton Town Center Mall
The boutique features a collection of over 80 of Ulysse Nardin's finest pieces, including three models from the limited edition line.
Patrik Hoffmann, Vice President of Sales and Marketing Worldwide for Ulysse Nardin, said, "We're pleased to expand the reach of our 164 year-old brand and reintroduce the watchmaking craft to South Florida."
A highlight of the Grand Opening was the auction, during which a limited edition watch, specially designed for the occasion with a retail value of $12,900 went to the highest bidder for $35,000. All of the proceeds from the sale will benefit the Boca Raton Regional Hospital, Ulysse Nardin's nonprofit partner for the evening.
Ulysse Nardin's watches are each handmade, produced by about 250 craftsmen in the company's Switzerland factory. Only 20,000 pieces, which are priced from $5,900 to $1 million dollars, are produced each year.
Following the ribbon cutting ceremony at the Grand Opening, Ulysse Nardin announced plans to open a new 7,000 square foot U.S. headquarters in Boca Raton in the spring of 2011.
Copyright © 2023 FashionNetwork.com All rights reserved.