Luxury stocks hit by Japan woes
March 14 - Luxury stocks were hit on Monday by worries about future sales in Japan, the world's third largest luxury goods market and a significant profit contributor for Hermes, Burberry, LVMH and Richemont.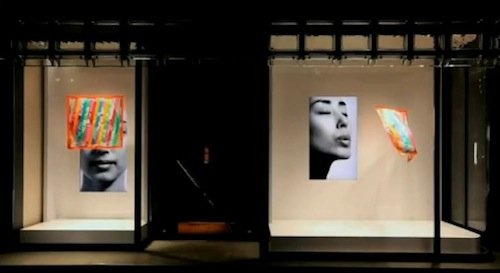 A Japanese actress blows from the screen onto a real Hermès scarf, creating an optical illusion. This visual merchandising concept was designed by Satoshi Asakawa for an Hermès boutique in Tokyo
Japan, which represents 11 percent of global luxury sales, had been on the mend but Friday's earthquake and fears of nuclear pollution are expected to harm its economy and severely hamper discretionary spending, analysts said.
"The luxury goods sector could be badly impacted short-term after the Japanese earthquake last Friday," said MF Global.
"As far as the European consumer sector is concerned in the wake of the earthquake, we believe that the 'early cycle' recovery rally in Luxury now seems vulnerable."
On the other hand, other analysts noted that the zones affected by the earthquake were not ones where luxury goods makers had major outlets, and estimated that between 10 to 20 percent of Japanese luxury buyers make their purchases abroad.
Japan as a country is just ahead or about the same size in terms of luxury sales now as China, and ranks just behind the United States as the world's top buyer of luxury goods.
But as nationalities go, the Japanese are still the world's biggest buyers of luxury goods when combining purchases at home and abroad, followed by U.S. citizens and the Chinese.
Japan makes up around 19 percent of sales for Hermes, 9 percent for LVMH, 16 percent for PPR's Luxury Business Group, which owns Gucci and Yves Saint Laurent, and 12 percent for Switzerland's Richemont group.
Tod's shares also suffered, falling as much a 3 pct in morning trade while Burberry, which makes about 7 percent of sales in Japan, saw its stock fall as much as 6 percent.
At 0903 GMT, LVMH stock was down 3.3 percent, Hermes 2.12 percent, Richemont 2.3 percent, Burberry down 5.45 percent, PPR down 1.75 percent and Tod's down 1.19 percent.
Meanwhile, shares in Finnish fashion house Marimekko fell 3.6 percent after catastrophe in Japan, its biggest export market.
"Basically, Japan generates about seven percent of their revenue, so it is natural that the shares are down a bit," said Helsinki-based Evli analyst Antti Koskivuori.
"However, a more negative for the luxury goods companies would be if the nuclear accident burdened the general global mood. Luxury sales depend on the people's confidence," Swiss asset manager Sarasin said in a note.
(Additional reporting by Jussi Rosendahl in Helsinki; Editing by Hans Peters)
© Thomson Reuters 2023 All rights reserved.