Luxury stocks hit by fear swine flu stopping travel
By Astrid Wendlandt
PARIS (Reuters) - Luxury goods stocks continued to slide on Tuesday 28 April as the swine flu outbreak raised fears it could hold back travellers, traditional buyers of upmarket handbags, watches and other pricey items.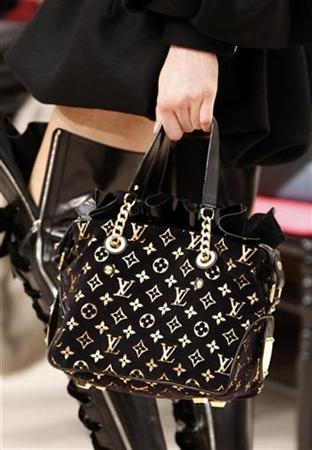 The decline has put an end to a month-and-half long rally in the shares as the world's top luxury brands outperformed the market.
Shares in world luxury goods leader LVMH (LVMH.PA) fell as much as 4 percent, having gained 18 percent so far in 2009 and its parent Dior (DIOR.PA) 26 percent. The French CAC 40 index of blue chips has lost 6 percent since the beginning of the year.
Shares in No. 2 Hermes (HRMS.PA) were down as much as 3.8 percent and those in No.3 Richemont (CFR.VX) 6.3 percent.
Analysts said they expected the World Health Organisation (WHO) and national health authorities to recommend travel restrictions on worries of a possible epidemic of swine flu.
Already, EU Health Commissioner Androulla Vassiliou has advised people to avoid travel to the United States and Mexico.
Bernstein estimated that about 20 percent of luxury products are purchased by people when they travel for business or leisure.
"A serious epidemic can be the 'perfect storm' for international travel," Bernstein said in a note.
"Assuming swine flu was like SARS -- i.e. far from devastating but serious enough -- the more probable risk for luxury goods stocks is short-term weakness."
Concerns about the possible repeat of an outbreak like the spread of severe acute respiratory syndrome (SARS) at the end of 2002 and in early 2003 also hit watchmakers.
Shares in the world leader Swatch (UHR.VX) fell as much as 6 percent to 157.50 Swiss francs.
"If it spreads to the U.S. and people stop travelling there, the impact will be big," said Vontobel analyst Rene Weber.
"The U.S. accounts for 14 percent of Swiss watch exports and there are no taxes there. A lot of people from Latin American countries go there to buy watches."
Shares in PPR (PRTP.PA), whose business is split between retail and luxury, have also fallen. They were down 6 percent at 57.72 euros at 1049 GMT, after having gained 25 percent so far this year.
Burberry (BRBY.L) also suffered, down 6.4 percent to 368.25 pence.
Credit Suisse said in a note that if concerns rose to SARS-like levels -- which it believed was very unlikely -- the global equity markets could fall between 10 and 15 percent.
(Additional reporting by Katie Reid in Zurich; editing by Karen Foster)
© Thomson Reuters 2023 All rights reserved.