Luxury sector to see niche deals
NEW YORK (Reuters) - The next aspiring Marc Jacobs or Stella McCartney may find it harder to get financial backing as luxury dealmakers target well-established brands for growth and top design houses begin paring smaller assets.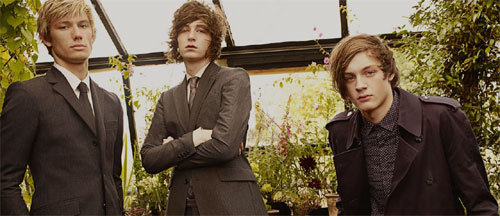 Burberry spring-summer 2009
Industry executives and bankers told the Reuters Global Luxury Summit that the legacy of recession and new fears of a debt crisis in Europe had galvanized top brands like LVMH (LVMH.PA), Gucci Group NV (GUCG.PK) and Richemont at the expense of smaller brand names as they revamp strategies.
Retail investment bank Financo Inc President and Chief Operating Officer William Susman said he viewed the retail world as "over-branded, over-stored and over-priced."
As a result, not every brand will survive, and it will become harder for niche brands to find a foothold.
"You saw with Christian Lacroix that eventually LVMH gave up on it after so many years. A lot of those brands may be even better off being run by venture capitalists than they are by those other companies," said Luxury Institute Chief Executive Milton Pedraza.
"The model for the future is a portfolio of large, strong, resilient brands. I would call that the Procter & Gamble (PG.N) sort of model as opposed ... to two major engines and then 60 other very suboptimal brands," Pedraza said.
He cited Coach (COH.N) and Burberry Group Plc BRBY.O as managing their businesses well through the recession.
"Brands that are seen as experts in a few categories tend to manage those portfolios very well. Sort of putting one egg in a basket and then taking good care of it," Pedraza said.
HARDER TO SURVIVE AS SMALL
For companies with less than $25 million in revenue, companies have to prove that they are both profitable and viable, Susman said.
For the next tier of $45 million to $75 million in revenue, designers need to show how they can someday expand to $100 million, while over a couple hundred million in revenues puts companies in the spotlight for private equity firms.
"It is very hard to get the scale to be competitive. That's what drives the consolidation," Financo's Susman said.
That hasn't dampened the ambition of many to get noticed, and a few VC players could still be game.
"The designers themselves want to be sellers instead of fight through this whole thing and build it up," said Peter Solomon, founder and chairman of his namesake boutique investment bank Peter J. Solomon.
"There will always be some venture capitalist or some financial guy who says 'I'd love to own a Fendi. And I'll feel good because I own Fendi and my wife will like that I own Fendi and we'll get our pictures in the papers," he said on the sidelines of the summit in New York.
Financing for the private equity market has returned and an enormous pool of money is available for niche deal-making, executives said.
"The leverage market is back. It's not what it was. At the peak, for a retailer, you could get maybe seven to eight times debt. Today, it's two to five times debt," Susman said.
Susman said financing is available at the higher end of that ratio for defensive names such as grocery stores and dollar stores, while more fashion-forward names may have less funding available.
"It is harder for new designers or not fully established designers or designers who don't know how to manage cash to thrive. So it has been very tough. And it has favored the incumbents -- the big, huge incumbent brands," Pedraza said.
A young designer who brings something new to the market can still find a foothold, but they need to have a great idea that can be merchandised and sold, said Alex Bolen, Chief Executive Officer of Oscar de la Renta.
"The thing from my perspective is they mistake buzz for business. That does a disservice," Bolen said.
"Ultimately we have to sell stuff, this is not an art project. We have to sell stuff -- and I don't mean a celebrity borrowing a dress," Bolen said.
FEW LUXURY IPOs
Susman said he doubted there were many established luxury retailers or designers that would attempt to go public. Instead, any IPOs in the sector will come from buyout firms looking to cash out on their investments, he said.
"What will drive the IPO market, I believe is private equity," he said, pointing to last year's IPOs by discount retailer Dollar General Corp (DG.N) and teen apparel chain rue21 Inc (RUE.O) and the filing last week by Toys R Us TOY.UL, all buyout-backed companies.
The only potential IPO by a luxury name might be upscale department store Neiman Marcus Group NMRCUS.UL, which was acquired by an investor group led by Texas Pacific Group and Warburg Pincus LLC in October 2005.
Still, Susman said, the recent sale of Harrod's two weeks ago confirmed that there are international buyers for luxury department stores.
"The IPO market is very confused, so it's not ready for a luxury brand like that when no one knows exactly where the luxury customer is yet," he said.
(Reporting by Jessica Hall; additional reporting by Phil Wahba; Editing by Michele Gershberg, Bernard Orr)
© Thomson Reuters 2023 All rights reserved.