Luxury market recovery seen slow
By Martinne Geller/Astrid Wendlandt
NEW YORK/PARIS (Reuters) - At a time when just being able to afford the rent seems like a luxury, purveyors of high-end jewels, fashion and handbags are facing challenges like never before.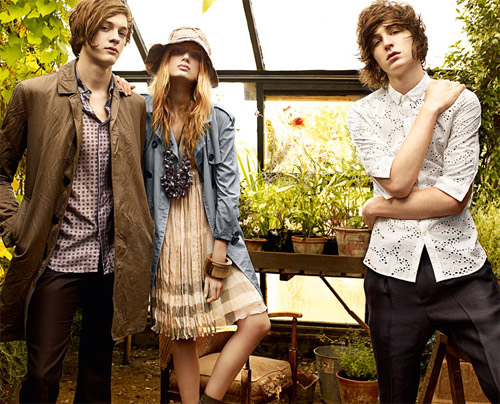 Burberry Spring-Summer 2009
Sales of luxury goods, which are expected to drop 10 percent this year, will not recover fully until 2012, according to a new report by Bain & Co, as austerity and understatement remain the "must-have" items of the rich and fabulous.
Against that backdrop, chief executives from Burberry Group (BRBY.L), Hermes (HRMS.PA), Tiffany (TIF.N) Rolls-Royce (RR.L), and Richemont's (CFR.VX) Van Cleef & Arpels, will gather next week at Reuters' first-ever Global Luxury Summit to share their recipes for success in hard times.
So far these recipes include managing costs carefully and planning conservatively. But beyond just navigating the storm, one question on everybody's lips is: will the glory days ever return?
Bain partner Claudia D'Arpizio said she does not expect annual luxury goods sales to recover to the level of 2007 -- before the U.S. recession set in -- until 2012.
"Consumers 'shop their closets,'" D'Arpizio said in her report, "reusing purchases from past years." But when they do shop, she said consumers are investing in "evergreen" items rather than trendy fashion pieces.
"Austerity is fashionable, even for the wealthiest consumers," D'Arpizio said.
After falling 10 percent in 2009, D'Arpizio said she expects luxury sales to rise 1 percent in 2010, 4 percent in 2011 and 7.5 percent in 2012.
While everyone is under pressure, the worst declines have been seen in watches, followed by jewelry. Leather goods and popular fashion houses are remaining the most resilient.
Longer-term, D'Arpizio and other luxury optimists believe sales will return as the global economy improves and luxury goods companies have yet to fully penetrate many markets in Eastern Europe, Latin America, Asia and the Middle East.
"I think the luxury industry will be back," Scilla Huang Sun, who runs a 30-million-euro luxury fund at Julius Baer, told Reuters.
They say the crisis has not affected the long-term growth prospects and attractive business model, based on relatively fat margins.
Louis Vuitton bags, which have proven relatively resilient to the consumer downturn, are estimated to generate gross margins of about 45 percent -- a figure LVMH (LVMH.PA) routinely refuses to confirm officially.
Market valuations for European luxury goods companies, which stood at around 12-16 times earnings in 2007, have been languishing at between 8 and 11 times this year's targets for several months now.
"Valuations do not look expensive," Huang Sun said.
Michael Niemira, chief economist for the International Council of Shopping Centers, said the recent rally in the U.S. stock market might bode well for luxury spending, which he sees taking a turn later this summer.
"That will be extremely important for the sustainability of any kind of consumer recovery," Niemira said.
Stocks of U.S. luxury goods and apparel makers, as measured by the Standard & Poor's Apparel, Accessories and Luxury Goods Index .15GSPTEXT, have gained 86 percent amid the wider stock market rally that started in early March. But they are still down 98 percent from 2007's highs.
NOT JUST THE HIGH END THAT'S HURT
The recession, falling home values and dwindling stock portfolios impacted the psyches of consumers up and down the price spectrum.
Department stores, at the high and low end, have faced particular trouble luring shoppers, since most of what they sell are items that thrifty consumers can do without.
The chief executives of department store operators Saks Inc (SKS.N) and JC Penney Co (JCP.N) will discuss their strategies during the later part of the week at the Reuters Global Retail Summit, along with executives from the companies that supply them, such as VF Corp (VFC.N), Liz Claiborne Inc (LIZ.N) and Jones Apparel Group Inc (JNY.N).
While recession-weary consumers have avoided stores, they've often gone online to search for discounts. The sector has not had the huge declines seen in the broader brick-and-mortar retail industry, and major players like online giant eBay Inc (EBAY.O) are counting on shoppers' love of deals to spur growth.
EBay is pinning hopes of reviving its marketplaces unit on the secondary market, which sells liquidated goods a season out of date. The company has been signing up retailers anxious for another market for their goods, and believes this market will differentiate it from main rival Amazon.com Inc (AMZN.O).
At the same time, luxury retailers have been making e-commerce a priority, and adding social media elements on their sites to foster a better sense of community.
(Additional reporting by Alexandria Sage in San Francisco and Aarthi Sivaraman in New York; Editing Bernard Orr)
© Thomson Reuters 2023 All rights reserved.