By Astrid Wendlandt
PARIS (Reuters) - Merger and acquisition activity in the luxury sector is set for an uptick after a two-year hiatus, driven by a sector recovery, closer convergence on price expectations and the euro's weakness.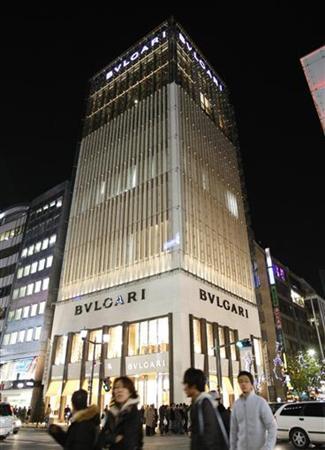 Swatch Group and Bulgari may have denied they are in tie-up talks but speculation about the two groups will not go away for a while amid a steady trickle of deals, big and small.
Analysts and bankers said fashion companies such as Gianfranco Ferre, Salvatore Ferragamo or Roberto Cavalli could be in play, while in the world of watches and jewellery, cash-rich Richemont and Swatch could be keen buyers.
Apparel maker Phillips-Van Heusen, owner of Calvin Klein, became an early mover this month with a $3 billion deal to buy U.S. clothing brand Tommy Hilfiger.
At the other end of the size scale, U.S. private equity firm OpenGate Capital bought loss-making fashion brand Nicole Farhi from French Connection for up to $7.5 million (4.9 million pounds).
"There will be more M&A in the luxury sector in the next six to 12 months as buyers will want to be picking up businesses on the upswing," said Valerie Blin, a luxury and lifestyle investment banker at London-based M&A boutique Avista Partners.
Luxury industry indicators have turned increasingly positive over the past two months.
U.S. wholesalers have posted better-than-expected sales since January, and fashion executives at shows in Paris and Milan said orders were picking up strongly since January and that their 2010 autumn/winter collections were selling well.
Swiss watch exports, a key luxury indicator, climbed for the second consecutive month in February after suffering a 22-percent drop last year.
"The large upswing in equities markets over the last year has dramatically narrowed the valuation gap between sellers and buyers," said Pierre Mallevays, managing partner at Savigny Partners, an advisory firm specialised in luxury companies.
While valuations have risen broadly and buyers may be willing to pay a bit more, analysts say sellers' price expectations have not kept pace with the market.
The bankruptcies of fashion houses Christian Lacroix in France and Mariella Burani in Italy have cast long shadows, and many groups are still licking their wounds, having shed staff, closed shops and slimmed down production after the worst spending slump in two decades.
Global luxury sales are expected to rise 1 percent this year after falling 8 percent last year to 153 billion euros, according to U.S. consultancy Bain & Co.
The luxury sector trades on 16-19 times current year earnings, up from 12 times in early 2009 and underscoring the recovery. By comparison, the broad STOXX 600 index currently trades at 12.7 times expected earnings.
EURO BOON
Another contributing factor to an M&A pick-up is the weaker euro which should make European brands more attractive to foreign buyers, particularly from regions such as China, Japan, India, Russia and the Middle East, M&A advisers said.
"The weak euro could help facilitate deals in the short-term, particularly for buyers from regions such as Asia," said Muriel Petit, investment banker at BNP Paribas, specialised in consumer and luxury goods.
Potential buyers in China want to get a share of the big profits European luxury companies make by selling products in their fast-growing home market while Japanese buyers are looking to tap regions outside their stagnant economy.
Some European brands have already been sold to buyers from emerging markets. In November, Megha Mittal, the daughter-in-law of ArcelorMittal Chief Executive Lakshmi Mittal, bought German fashion brand Escada for an undisclosed amount.
M&A advisers think foreign buyers are likely to take a close look at fashion house Gianfranco Ferre and cashmere brand Malo, which are being put up for sale by Italian group IT Holding, currently in administration.
But Western European trade buyers will be making deals too.
Cash-rich groups such as Richemont, Hermes and Swatch will have more fire power than others.
Already Richemont, which makes Montblanc pens and Lancel handbags, is finalising a deal to increase its ownership of Net-a-porter.com, the online fashion retailer, in which it already has a 28-percent stake, fashion industry sources say.
Swatch makes no secret it is open to acquisitions.
"If they are interesting and big brands, we have always said yes, it is a possibility... And I cited it (Bulgari) as an example but there are others," Swatch Chief Executive Nick Hayek said this week.
Luxury groups tell advisers they are looking for acquisitions that allow them to lower costs, strengthen their vertical integration and expand their global reach.
"The main targets at the moment are Bulgari and (U.S. jeweller) Tiffany, two good medium-size companies which can offer a great potential for synergies," said David Thebault, head of quantitative sales trading at Global Equities in Paris.
In the fashion sector, Italian brands such as Prada and Salvatore Ferragamo, which tried several times to float, could come on the market, together with Roberto Cavalli.
Big groups such as LVMH and Gucci Group, part of PPR, which went on spending sprees in the late 1990s and early 2000, might not be big potential buyers this time round as they are still struggling to make profitable many of the brands they acquired.
(Additional reporting by Blaise Robinson in Paris, Silke Koltrowitz and Katie Reid in Zurich, Editing by Sitaraman Shankar)
© Thomson Reuters 2023 All rights reserved.