Luxury execs see strong 2011, more M&A
May 24 - Luxury goods makers expect 2011 to be one their strongest years in recent history, thanks to fast-growing China and a return in global consumer confidence, luxury executives said on Monday.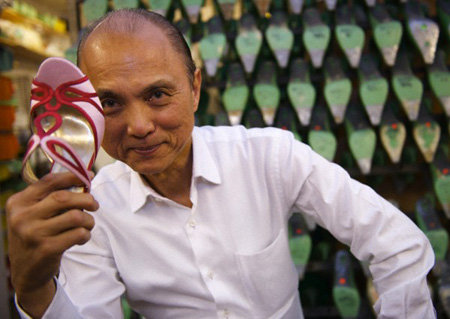 Fashion designer Jimmy Choo in his studio on Cannaught Street with a pair of bespoke shoes (Photo: Corbis)
Whether it is five-star hotels, sportscars, fancy dresses or expensive face creams, consumers are splurging again and putting behind them the dark days of the financial crisis, executives told the Reuters Global Luxury and Fashion Summit.
Sportscar maker Lamborghini, L'Oreal's luxury unit division, Cerruti, Roberto Cavalli, Parisian five-star hotel Le Bristol and Coach Inc all gave upbeat outlooks for this year in spite of Japan's woes and debt worries in Europe.
Nicolas Hieronimus, head of L'Oreal's luxury unit division, said there was no reason to believe consumption in Europe would deteriorate and he expected the maker of Lancome creams and Yves Saint Laurent lipstick to beat market growth this year.
Meanwhile, Roberto Cavalli, known for its lavish animal prints and colorful cocktail dresses, said sales should surge by as much as 30 percent this year, boosted by travel shoppers and and strong demand from Asia.
Lamborghini Chief Executive Stephan Winkelmann said he expected to sell around 1,500 cars this year, up from 1,302 last year, depending on deliveries of its new Aventador model which starts at 300,000 euros ($421,000) and can reach 600,000 euros in China.
Coach, a leather goods maker, is selling more of its pricier handbags now, CEO Lew Frankfort said in New York.
The Bristol hotel in Paris, which recently won the right from the French government to call itself a "palace," said the year had started very well and it expected first-half revenues to be up 10-15 percent against the same period in 2010.
UPTICK IN M&A

The positive outlook in the industry is also triggering a fresh round of mergers and acquisitions.
Just after Bally-owner Labelux said it would acquire fashion brand Jimmy Choo on Sunday, Roberto Cavalli Chief Executive Gianluca Brozzetti told the summit in London potential buyers were queuing up to buy the Italian brand.
"We have a long queue that is coming to us, because they can smell there is something positive going on," Brozzetti said.
And some buyers are coming from the East.
Hong Kong luxury meanswear operator Trinity which last year bought Italy's Cerruti fashion house, said it was keen to acquire more heritage brands in Europe to fuel its expansion in China, set to become the world's biggest luxury market.
Pascal Berclaz, head of small Swiss luxury watchmaker Quinting, said buyers were back in 2011 and his brand was getting approached about two or three times a month as opposed to once every six months last year.
Meanwhile, fast-growing French fashion brand Zadig & Voltaire, said it was also getting approached but the door remained closed.
"I have a lot of people knocking on my door but I usually don't answer them as it is a loss of time," Zadig & Voltaire founder and Chief Executive Thierry Gillier told the summit in Paris.
Earlier this month, U.S. consultancy Bain raised its 2011 growth forecast for luxury sales to 8 percent at constant currencies from a 3-5 percent range after sales data from major luxury groups such as LVMH, Burberry, PPR and Tod's beat market expectations.
Bain expects sales in Europe and the United States to be 7-8 percent and 25 percent in China.
Overall, luxury goods sales should total at least 185 billion euros in 2011, up from 172 billion euros in 2010, Bain estimates.
"The selling at wholesale for the fall and winter of 2012 is actually going fast and that is yet another good sign," said Marc-Andre Kamel, head of Bain & Company's Retail and Luxury Practice for Europe, Middle East and Africa.
Still, bumpy stock markets elsewhere could hurt luxury spending, experts said.
Bottom line is you take a market like New York City and it is levered to the stock market, it's not just the bonuses down on Wall Street, it's employment," said Shawn Kravetz, who runs Boston-based hedge fund Esplanade Capital.
Despite the upbeat outlook, some executives say that consumers remain cautious and still seek out bargains.
"Our positioning as a democratized luxury brand has never been more in vogue than it is today, Coach's Frankfort said.
By Astrid Wendlandt and Phil Wahba
(Editing by Bernard Orr)
© Thomson Reuters 2023 All rights reserved.