Luxury, discount stocks red-hot for holidays
(Reuters) - Investors betting on retail stocks this holiday season are advised to buy high and low, and sell the in-betweens.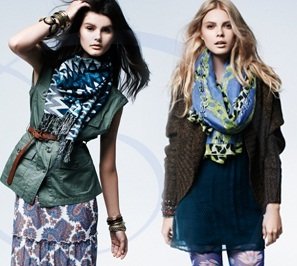 Forever21.com
Luxury chains and discounters are likely to emerge as winners, unlike last year when the recession depressed retailers across the board, industry watchers said.
Seasoned stock pickers are urging clients to hoard high-end players such as Tiffany & Co (TIF.N) and Nordstrom Inc (JWN.N), as well as discounters including Target Corp (TGT.N).
Tiffany turns analysts on despite its high valuation, with many seeing promise in the jeweler's recent line of clutches sporting its signature robin's-egg blue color. Nordstrom, too, has won praise for its better merchandise.
"The housing market is still in the ditch. Unemployment is still very high," said Craig Johnson, president of Customer Growth Partners. "But if you are (among) the 83 percent of people (who) ... still has a full-time job and you have made it through this far, you are probably going to do OK."
A recent survey sees holiday gift spending by affluent Americans rising 4 percent to $23 billion.
The recession has weeded out weaker players and forced survivors to operate better, setting the scene for smart retailers to charm shoppers and stock pickers ahead of the busiest season of the year, analysts said.
Potential winners are those carrying must-have items such as an Apple iPad tablet and a Tiffany clutch purse, or the ones with compelling promotions, they said.
"This is going to be one of those Christmases where the winners are going to look like Rocky Balboa at the end of a fight," Patty Edwards, chief investment officer of Trutina Financial said, referring to the film "Rocky".
"Everyone's going to be bruised and bloody, but one is going to be standing."
Many experts expect retailers to have their best Christmas sales in four years. But while a few affluent shoppers will lap up luxury, the rest of America will chase low prices.
"We are going to have frugal shoppers this year. I don't think that it's a return to spending wildly," Edwards said.
But even at the low end, customers will be picky.
For instance, many analysts expect Target to lure shoppers from larger rival Wal-Mart Stores Inc (WMT.N), whose sales at U.S. stores open at least a year have fallen in each of the past five quarters.
"Wal-Mart is still challenged ... Target has had a great resurgence this year," Johnson said, noting the latter's strength in operations and fashions.
Target also beat Wal-Mart in striking a deal with Apple Inc (AAPL.O) to carry its iPad tablets. Apple products are major customer magnets for many electronics retailers.
SELL SOMETHING SEXY
With many seeing mobile computing devices such as the iPad eating into demand for laptops, stock pickers regard Apple as a safe haven ahead of the holidays.
"These are somewhat substitutable devices. An iPad is lighter, smaller ... sexier," said Lawrence Creatura, a portfolio manager at Federated Clover Investment Advisors.
With three in four adults expected to give electronic gifts this year, electronics chain hhgregg Inc (HGG.N) and Amazon.com (AMZN.O), which count on hot gadgets to boost customer traffic, should do well, analysts said.
Limited Brands Inc (LTD.N), parent of the Victoria's Secret and Bath & Body Works chains, could be a winner as it becomes a destination for customers seeking smaller gifts, Edwards said.
On the apparel front, many fund managers favor Urban Outfitters Inc (URBN.O), with some praising the merchandise at its Anthropologie chain. Some recommended shares of Perry Ellis (PERY.O) and J Crew (JCG.N) as well.
Some like Johnson see only a "modest" Christmas for teen retailers Abercrombie & Fitch (ANF.N), Aeropostale (ARO.N) and American Eagle Outfitters (AEO.N) as they lose some female customers to hipper chains like Forever 21, H&M and Love Culture, which are known for their discounts.
Financo's Susman sees good prospects for Steve Madden (SHOO.O) and Payless parent Collective Brands Inc (PSS.N).
But a dearth of must-have goods and compelling price tags are driving investors away from mid-price department stores such as J.C. Penney (JCP.N) and Dillard's (DDS.N).
"Anyone in the middle is likely at risk. There are cheaper alternatives to department stores," Creatura said.
Some worried about poor execution at some of these chains.
"I continue to walk through (Penney) stores and shake my head. It doesn't make a lot of sense to me," Edwards said, noting that Kohl's has better management, merchandise and pricing.
"I think that Kohl's is going to end up eating J.C. Penney's lunch."
(Reporting by Dhanya Skariachan; Editing by Richard Chang and Maureen Bavdek)
© Thomson Reuters 2023 All rights reserved.