Luxury brands under M&A pressure
May 24 - Big luxury goods companies will be pressured to make acquisitions to grow even as stocks of high-end retailers and brands make deals pricey and some targets are reluctant to even listen to offers.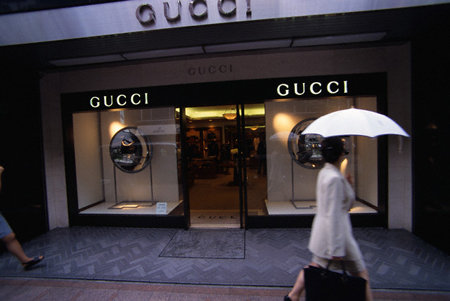 A woman carrying an umbrella walks past a Gucci department store in Tokyo's Ginza district (Photo: Corbis)
"If I'm a Gucci or LVMH, I am confident I can do more faster with a given asset by the virtue of owning it," said Shawn Kravetz, president of Esplanade Capital.
"The buyer just says I can do even more with that. I can take a 10-year growth plan and make it happen in five, I can enter two times as many countries, I can build five new stores instead of two," Kravetz said at the Global Luxury & Fashion Summit in New York.
So far this year, luxury mergers and acquisitions have doubled the pace set for all of 2010, according to data from Thomson Reuters. Luxury M&A totaled nearly $6.0 billion through May 20, compared with $2.9 billion for full-year 2010.
On Sunday, upscale shoe-maker Jimmy Choo agreed to be sold to German luxury-goods firm Labelux GmbH, which owns Swiss shoe brand Bally, as well as the Derek Lam fashion house and British jeweler Solange Azagury-Partridge.
"A lot of these larger companies are going to be under even greater pressure to find ways to grow. And when they've penetrated even more of these international hamlets, acquisitions are going to be the way to grow," Kravetz said.
Hong Kong luxury menswear operator Trinity Ltd, which last year bought Italy's Cerruti fashion house, said it is looking to acquire more heritage brands in Europe to fuel its expansion in China, set to become the world's biggest luxury market within the next decade. In January, Trinity raised $95 million specifically to fund acquisitions.
Retailers operating in greater China, such as Trinity and YGM Trading Ltd, have been acquiring European brands as increasingly wealthy Chinese consumers turn to expensive foreign brands for suits, handbags and shoes.
"What we've seen obviously is that companies have a lot of cash on their balance sheets, confidence again. We've passed the financial crisis," said Scilla Huang Sun, Swiss & Global Asset Management told the Reuters Summit in Paris.
"Many companies are planning IPOs and we think consolidation in the luxury sector will continue. That's positive because it will lift luxury stocks," said Laurent Belloni, a fund manager at Pictet Premium Brand.
Pictet Premium says luxury stocks are trading at 17 times future earnings, but could rise to 20 to 22 times earnings, in line with historical averages.
SUITORS LINING UP
Italian fashion house Roberto Cavalli said it has a long line of suitors, but wants to deliver on its turnaround plan before looking at a sale or initial public offering.
"We have a long queue that is coming to us, because they can smell there is something positive going on," Gianluca Brozzetti told the Reuters Global Luxury and Fashion Summit in London.
Clothing brands such as fast-growing French fashion brand Zadig & Voltaire and Swiss luxury watchmaker Quinting also said they have been approached several times over the last two years.
They said they eventually turned down the offers as they preferred to keep control of their companies. "It was not our intention to sell," Quinting CEO Pascal Berclaz said.
"I have a lot of people knocking on my door but I usually don't answer them as it is a loss of time," Zadig & Voltaire founder and Chief Executive Thierry Gillier told the summit in Paris.
Initial public offerings are seen as a viable alternative to selling to a larger brand. Moncler, Prada, Ferragamo are often cited as prime IPO candidates.
Kravetz said such companies are likely to move slowly toward the public markets since they many luxury brands are family owned and bogged down in history and bureaucracy.
"These companies move at a glacial pace. But a $10 billion IPO for Prada could get the family's attention," Kravetz said.

(Reporting by Pascale Denis, Astrid Wendlandt, Phil Wahba, Antonella Ciancio and Jessica Hall; Editing by Richard Chang)
© Thomson Reuters 2023 All rights reserved.