London picks color, bold designs for next spring
LONDON | Tue Sep 20, 2011 - Designers at London Fashion Week opted for the bold, colorful and sexy for next spring's womenswear, with plenty of sparkle and embellishment on the catwalk to entice cash-strapped shoppers wanting that special item for their wardrobe.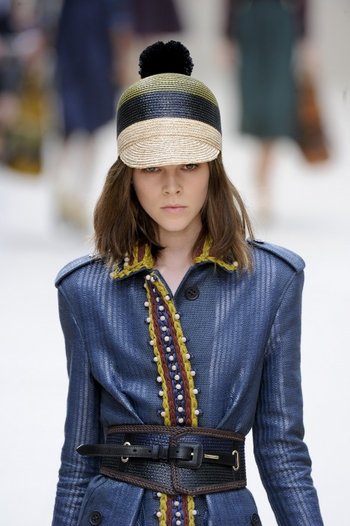 Burberry Prorsum - SS 2012 / Photo: Pixel Formula
Figure-hugging dresses and detailed craftsmanship featured prominently at the shows for spring/summer 2012, with London, known for its verve and creativity, bursting with pride as host of next year's Olympic Games.
"London is all about young people, young vibe, and I love it," Anna Dello Russo, editor at large and creative consultant for Vogue Japan, told Reuters.
Fashion theory may state that when times get tough hemlines drop but many names kept skirts very short.
At a celebrity-packed Burberry show, creative director Christopher Bailey dressed models in mid-length pencil skirts. There were also belt parkas with oversized sleeves and slim coats, in a palette of green, damson and orange.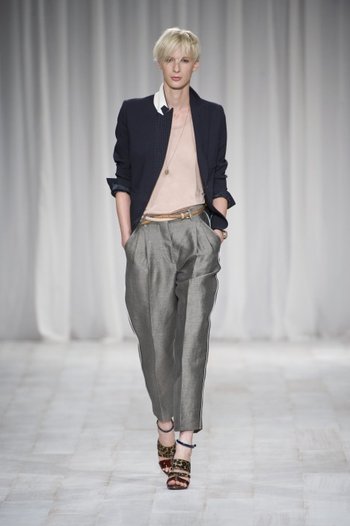 Paul Smith - SS 2012 / Photo: Pixel Formula
Bailey told Reuters he wanted to give Burberry's collection an artisanal dimension, with crochet, beading and latticed leather on collars and sleeves. "General analysis says that when hemlines go longer, people are tightening their belts, maybe who knows, it certainly wasn't a conscious decision, it just felt the right time," he said.
At Paul Smith, models wore soft floaty dresses and structured shirts fused with a city chic style. The designer, known for his sharp tailoring, described the collection as a fusion of a soft silhouette with a rock chick vibe.
"I think the good thing about Paul Smith's shows is the fact that when you take all the pieces apart they're all very wearable," he told Reuters.
Dozens of both British and international designers, including Tom Ford, have been showing their lines at London Fashion week which will end on Wednesday with menswear presentations.
"EXCLUSIVE"
The direct value of the fashion industry to the British economy is nearly 21 billion pounds ($33 billion). A report released on Tuesday by American Express Business Insights said spending on luxury fashion in Britain rose 27 percent this year.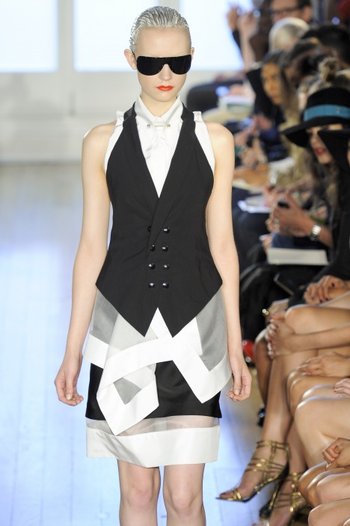 Julien Macdonald - SS 2012 / Photo: Pixel Formula
This drive in fashion spending comes from general consumers while traditional high-end shoppers -- the top 5 percent of fashion buyers -- are slowing their spending, the report said.
However, at his fashion show, Julien Macdonald said he was targeting a select, exclusive audience as he cut back on the number of guests he invited.
"The collection is exclusive, it's very expensive only the richest people in the world can ever afford to buy it, and so I just invited the best," he said. "I said no to 550 very upset people."
With an eye on the Asian market, Macdonald said he was inspired by luxury boats in Monte Carlo, Cannes and St Tropez and the line was also a "taste of the Orient" with bold blue and white designs and embellished evening and cocktail dresses.
There was also lots of glamour at Alice Temperley's show, with kimono capes, silk suits, sparkly and fringed dresses and long embellished transparent gowns, accessorized with sunglasses and head wraps.
"Very, very sensual, glamorous, quite high octane glamour, and it's based on Grace Kelly from High Society but with a bit of Scarface Michelle Pfeiffer to sort of vamp it up a bit, and... it's polished," she told Reuters.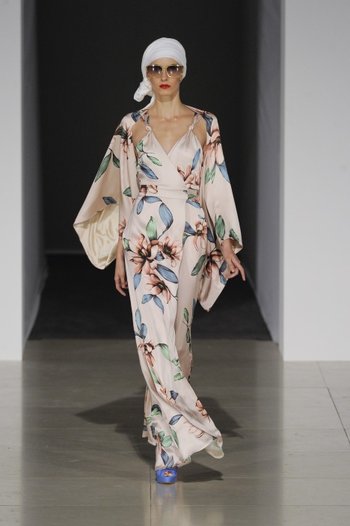 Temperley London - SS 2012 / Photo: Pixel Formula
Temperley fans include Britain's Duchess of Cambridge, Kate Middleton, and her younger sister Pippa, who watched the show from the front row.
Matthew Williamson, known for his use of color, print and embellishment, presented jumpsuits, silk trousers and shirts and knits with beaded necklines. Watched by actress Sienna Miller, the show also featured a saffron gown with intricate torso detailing and a flame-orange train. Williamson also presented shoes from his collaboration with Charlotte Olympia, with models stepping out in colorful pumps and open-toe sandals with Perspex heels.
Issa London and Mulberry also had colorful, playful shows with the latter taking inspiration from the British summer, with seaside summer dresses under macintosh coats and decorating its venue with large ice cream cones and animal balloons. A selection of its luxury handbags was also on display.
Issa, which was thrust into the spotlight when Kate Middleton wore a blue Issa dress to announce her engagement to Prince William last year, showed tropical colors, flirty dresses and luxurious kaftans.
Yellow, pale blue and pink featured prominently at many shows as did sky-high heels. There were also flashes of dark gold at some presentations as well as holographic cocktail dresses at Vivienne Westwood's Red Label show.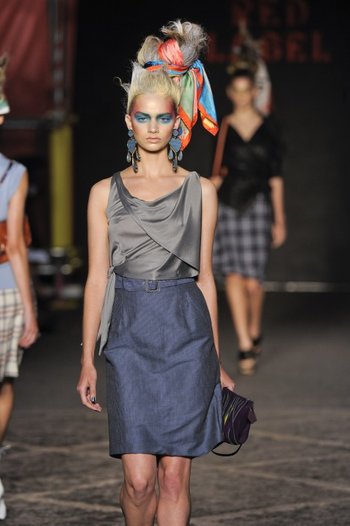 Vivienne Westwood - SS 2012 / Photo: Pixel Formula
Westwood, had her models wear bold makeup and big hair, with some plaits hanging across the neckline.
Designers also picked a selection of venues for their shows with Westwood opting for an old London meat market, Temperley showing at the British Museum and Williamson presenting at the Tate Modern.
Celebrities added the final touch of glamour with their presence. Big names such as Kanye West, Ben Kingsley, Kristen Stewart, Kate Moss, Mario Testino, Pamela Anderson and Rosario Dawson came to see London shows while Beyonce unveiled her House of Dereon fashion line at luxury store Selfridges.

By Marie-Louise Gumuchian
($1 = 0.639 British Pounds)
(Additional reporting by Basmah Fahim; Writing by Marie-Louise Gumuchian, editing by Paul Casciato)
© Thomson Reuters 2023 All rights reserved.