Lingerie firm offers women "liberating" loincloths
KYOTO, Japan, March 30 (Reuters Life!) - Whether you're a g-string girl or prefer granny-style knickers, a Japanese lingerie maker is inviting women to liberate themselves from conventional, body-hugging underwear and don loincloths instead.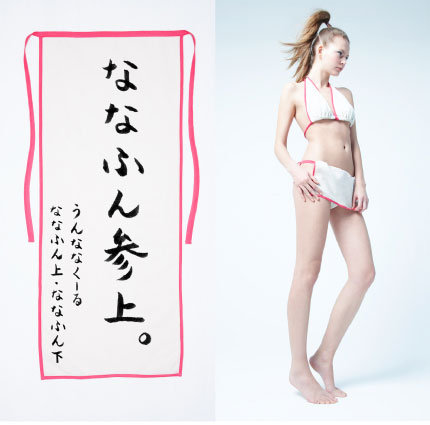 Loincloth by Wacoal (Source: www.une-nana-cool.com)
Loincloths, called "fundoshi" in Japanese, were worn by adult men in the past, but they are now a rarity.
Kyoto-based lingerie firm Wacoal, however, has brought them back into fashion, this time for women seeking "emancipation" from the tightness of conventional underwear.
"We wanted young women to have a more sense of freedom and release. And as we tried to come up with the ultimate liberation item for women, we thought of a fundoshi," said Tomoka Okamura, merchandise director for Wacoal's Nanafun female loincloths.
The loincloths for women come in seven different colours and two designs -- plain and chequered. Prices are about 1,260 yen ($13).
Wacoal has sold more than 5,000 since December, three times more than it had expected, officials said, and the company now plans to start selling them in Hong Kong, Taiwan and Singapore.
"It's easy to wear and is quite nice. It's also good for summer. And since it's getting warmer, I figured it would be good for that," said Hiromi Iwamura, a 28-year-old shopper who was buying a patterned loincloth and matching bra. ($1=97.74 Yen) (Reporting by Toshi Maeda, editing by Miral Fahmy)
© Thomson Reuters 2023 All rights reserved.