Libya turmoil takes toll on luxury watchmakers
Feb 24 - Luxury watchmakers suffered the knock-on effects of turmoil in Libya, with their shares dragged down by sales concerns and a strong Swiss franc.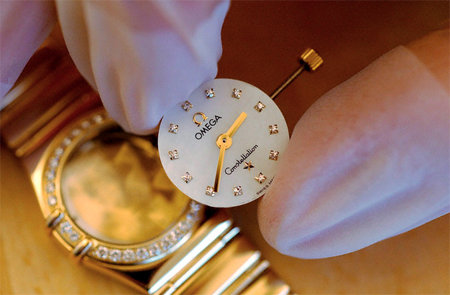 A watchmaker adjusts an Omega Constellation watch, at the Omega headquarters. Omega is one of the many brands owned by the Swatch Group
Switzerland's watchmakers were particularly badly hit by worries that the Swiss franc's safe haven status could weigh heavily on their margins.
"It is a mixture of Middle East concerns and Swiss franc potentially affecting watchmaker's margins," Raymond James analyst Marc Willaume said on Thursday.
Richemont shares closed down 3 percent while Swatch shares fell by more than 2.5 percent and LVMH shares slipped 2 percent.
The falls in luxury goods stocks came against a backdrop of crude oil prices soaring to almost $120 a barrel and the Swiss franc hitting a record high as violence escalated in North African oil producer Libya.
The Middle Eastern luxury market was worth about 7 billion euros ($9.7 billion) in annual sales or about 4.5 percent of global luxury sales, analysts at Bernstein estimated last year.
The falls in European luxury goods stocks tracked Tiffany & Co shares, which were knocked down Wednesday by fears that high oil prices could hit global discretionary spending.
Upheaval in the Middle East and Africa is seen as harming watch groups more than other luxury goods makers partly because timepieces involve higher fixed costs than fashion or leather goods and watchmakers react slowly to changing markets.
The Middle East accounts for as much as 10 percent of annual sales of Swiss luxury group Richemont which owns brands including Cartier, Piaget, Vacheron Constantin and Montblanc.
While some analysts pointed out that many of the region's big fortunes were built on high oil prices, others noted that some of them were controlled by families with close ties to leaders who had fallen or could be on their way out.
"I presume part of it is the situation in the Middle East - the region accounts for almost 10 percent of global Swiss watch market demand," Kepler Capital Markets analyst Jon Cox said.
"So if that region really starts to melt down there is going to be a big impact on watches."
The United Arab Emirates, Saudi Arabia, Qatar, Kuwait and Israel together accounted for just over 8 percent of January's total Swiss watch exports. In 2010, 6.6 percent of exported watches went to UAE, Saudi Arabia, Qatar, Israel and Oman.
But other analysts pointed out that much of Middle Eastern demand was not based in Egypt, Tunisia, Libya or Bahrain but rather in Dubai and Saudi Arabia, which have not been affected by the region's waves of unrest.
By Astrid Wendlandt and Silke Koltrowitz
(Editing by Alexander Smith)
© Thomson Reuters 2022 All rights reserved.