Levi jeans focus on women's shapes, not size
Levi's launches a new line of custom fit jeans for the curve of a woman's body, using a revolutionary system based on shape, not size. Named Curve ID, the concept was created in response to a study of 60,000 women. Body scans and surveys analysed the ideal denim fit for all shapes and sizes.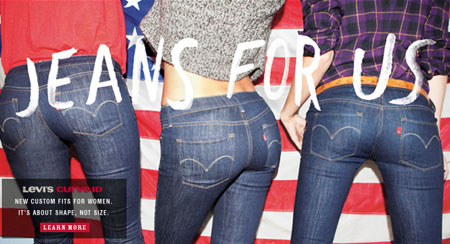 www.levi.com
"Since we created our first women's jeans 75 years ago, no one has changed the formula for finding the perfect fit," said You Nguyen, senior vice president of Women's Merchandising and Design for the Levi's brand.
Through this research, Levi's designers identified three distinct body types that account for 80 percent of women's shapes universally and so Curve ID can ultimately embrace the true curves of a woman's entire body.
The body types are based on the difference between the measurement of a woman's hip and seat – the greater the difference, the more curvy the body. The collection will offer jeans for those women with a Slight Curve, a Demi Curve and a Bold Curve.
Levi Strauss & Co. conducted a global survey revealing:
• More than half of women (54 percent) try on at least 10 pairs of jeans to find one pair they would buy.
• Most women (67 percent) believe that jeans are designed for women with "ideal" figures.
Levi's Curve ID is currently launching in U.S., Canada, Mexico, Brazil and retail locations in Asia and Europe. Each store carrying the line will have trained fit experts to measure women and a global digital fitting room will launch on
Levi.com
. The jeans will set you back between 80 and 130 Euros.
By Rosie Hart
Copyright © 2022 FashionNetwork.com All rights reserved.