Le Chateau shares tumble after loss, downgrade
Shares of Le Chateau Inc sank more than 15 percent on Monday after the Canadian fashion retailer posted a quarterly loss and an analyst downgraded the stock on doubts about the company's efforts to rebrand itself to a higher-end clientele.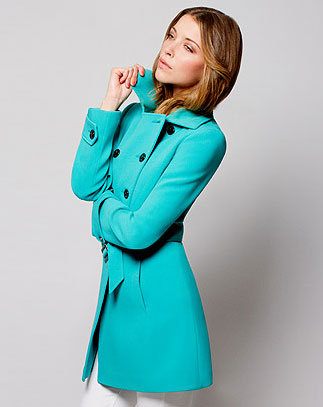 Photo: Le Château
The Montreal-based clothing chain's financial performance has suffered in recent years in the face of stepped-up competition from both domestic and international budget retailers, including Sweden's H&M and Zara, owned by Spain's Inditex.
"This is the epitome of a 'show-me' story," said analyst Neil Linsdell at Versant Partners in Montreal, noting the company has been targeting more affluent consumers for about a year.
"Investors ... shouldn't be sitting in the stock waiting for a turnaround like this. Every time I think they're going to disappoint me, they disappoint me worse," Linsdell added.
He said he was the only analyst who hasn't yet dropped coverage of the company.
Le Chateau reported a deeper-than-expected first-quarter net loss of C$6.5 million ($6.3 million), or 26 Canadian cents a share, after the market close on Friday. Overvall sales dropped 11.1 percent, and sales in established stores fell 13.1 percent.
The company said increased promotional activity related to the new branding strategy contributed to the loss and hurt profit margins for the first quarter.
The company's climbing inventory and declining same-store sales means the once cash-rich company has had to borrow more money in recent quarters.
In its earnings release, Le Chateau said that as of April 25, the company had a new three-year credit agreement with GE Capital Canada for an asset-based credit facility of C$70 million, replacing its previous credit facility of C$22 million.
At the end of the first quarter, its net debt was C$56 million.
Le Chateau shares, which have plunged nearly 90 percent in the past year, dropped on Monday more than 15 percent to C$1.24 on the Toronto Stock Exchange.
© Thomson Reuters 2022 All rights reserved.