Law firm spent $7 million to sue Wal-Mart
June 22 - Joseph Sellers is in the hole by about $7 million and does not expect to dig his way out any time soon.

As lead counsel to the plaintiffs in the Wal-Mart Stores Inc employment discrimination lawsuit tossed out by the United States Supreme Court on Monday, Seller's law firm, Cohen Milstein Sellers & Toll, dedicated about $5 million in attorney hours and spent $2 million on experts and discovery in the decade-long case, he said.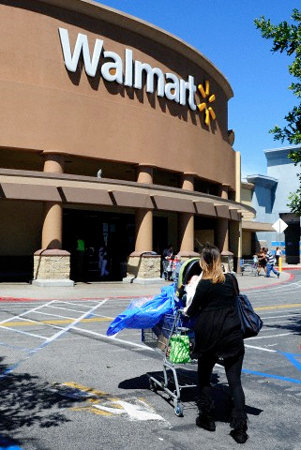 Shoppers outside a Walmart store in Los Angeles (Photo: Corbis)
The Court found the claims filed by as many as 1.5 million women against the retail giant were too varied to permit class certification. The Court did not rule on the merits of the plaintiffs' claims and left the door open for smaller, narrower groups of plaintiffs who could pursue other class actions. But so far, Cohen Milstein has not seen any return on its investment.
"All our fees and expenses are at risk," Sellers said, referring to the Wal-Mart case.
Cohen Milstein is a plaintiffs' powerhouse that has made a successful business of bankrolling expensive, massive class actions. In recent years, the 60-attorney firm with offices in New York, Washington, Philadelphia and Chicago, has won hundreds of millions of dollars against the likes of Mercedes Benz, Bristol-Myers Squibb, 3M and Christie's International. The firm focuses on antitrust, civil rights, product liability, securities fraud and employee discrimination.
The law firm has a line of credit that it uses to pay expenses, Sellers said, and will continue to rely on it to help move the Wal-Mart matter along. He said the employment discrimination practice "contributes to the profitability of the firm."
Verdicts and settlements in antitrust, product liability and securities fraud cases can support a firm's employment discrimination practice, since those cases usually are not big money-makers, said Sean Coffey, a former securities class-action plaintiffs attorney and unsuccessful candidate for New York Attorney General.
Coffey recently founded BlackRobe Capital, a New York-based litigation funding company. The new company, which expects to launch in the fall, is an alternative for law firms that do not want to self-fund litigation by fronting the costs of a case in exchange for a piece of the winnings.
Sellers, whose firm self-funded the Wal-Mart case, said it received "overtures" from funding companies for the Wal-Mart case, but in light of Monday's decision, "they may conclude that there's too much at risk."
A large portion of Cohen Milstein's $2 million in expenses was incurred sifting through about two million pages of discovery documents pertaining to Wal-Mart's employment data, Sellers said. Up to five attorneys at a time have worked on the case and it has taken a mainframe computer to handle the data memory requirements. Hiring three outside experts also has taken a chunk of expenses, he said.
Sellers is co-lead counsel with Brad Seligman, Senior Counsel of nonprofit group Impact Fund, which pays the salaries of its own lawyers. The organization was not immediately available for comment.
The most the plaintiffs' attorneys generally can hope for in a federal class action is 33 percent of the proceeds and the least is 25 percent, an amount set by the presiding judge, said Robert Ottinger, a plaintiffs employment law attorney. Usually, the more complicated the case, the higher the percentage. If there is any monetary recovery, which could reach tens of millions or more, Cohen Milstein likely would get the higher percentage, considering how long the Wal-Mart case has run, said Ottinger. The Ottinger Firm, in New York and San Francisco, is not connected to the Wal-Mart case.
"I wouldn't have taken the case," said Ottinger, whose firm has three attorneys. "If we lost, it would be over for us."
(Reporting by Leigh Jones; editing by Eileen Daspin and Andre Grenon)
© Thomson Reuters 2023 All rights reserved.