La Rinascente to go global, Thai Central Retail says
May 30 - Thailand's Central Retail Corporation Ltd said on Monday it wanted to strengthen La Rinascente SpA, the upmarket Italian department store chain it bought last week, and aimed to take the brand global within five years.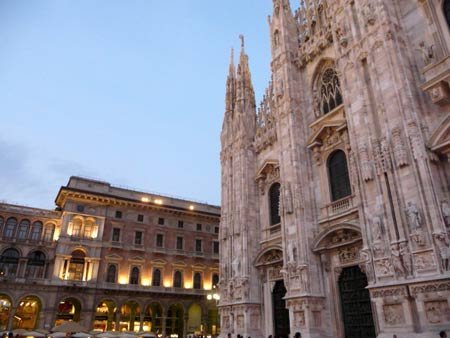 La Rinascente store in Milan
This is the first foray into Europe by unlisted Central Retail, part of Thailand's top retailer, Central Group, and its first significant step outside Thailand, backed by a strong baht .
Central Retail bought the 150-year-old stores firm on May 27 for 205 million euros ($291 million).
"Our ultimate goal is to take it global and to be recognised all across Asia, be it in Thailand, China, Japan or Hong Kong," Chief Executive Officer Tos Chirathivat told reporters.
"It's a huge step for us to be able to do something like this and expand our footstep to a developed country," he added.
Central Retail also planned new Rinascente stores in Italy and expected the takeover to break even within eight years.
"We have a plan to promote Rinascente as a world class lifestyle brand and to expand locally, with more flagship stores in Rome, Venice, Florence, Naples and Bologna," Tos said.
Rinascente, once controlled by Italian car maker Fiat , will become Central's first international department store brand under Central Retail, which includes three domestic names, Central, Zen and Robinson .
Central Retail owns Central Pattana Pcl , Thailand's largest department store operator and holds a stake in hypermarket operator Big C Supercenter Pcl , which took over Carrefour SA's Thai stores in 2010.
Tos said there would be no change of management team at Rinascente, which is led by Chief Executive Vittorio Radice. Rinascente posted sales of 350 million euros in 2010.
Central Retail was still looking for more foreign assets after the acquisition, which is expected to add 15 percent to its sales starting next month, Tos said, adding the Thai company expected sales of 100 billion baht ($3.3 billion) in 2011 and 230 billion baht in 2012.
"Once we have Rinascente, the door is open. We'll keep looking for any opportunity where we see some fit with our long-term strategy, whether in Thailand, China or other ASEAN and European countries," he said.
Central Retail will use Rinascente, with an enterprise value of 260 million euros, to expand into new markets and be a distributor of Italian products, Tos said.
Rinascente, which has 11 department stores across Italy, was put up for sale this year by investors including Investitori Associati, an Italian private equity firm that owns 46 percent.
Deutsche Bank's RREEF holds 30 percent of the retailer, Italian real estate company Prelios SpA has 20 percent and Gruppo Borletti 4 percent. UniCredit , Italy's top lender, is advising on the deal.
The heir of the chain's founders, Maurizio Borletti, had opposed the sale but a court in Milan rejected his attempt to block it.
Central was founded in 1927 by Tiang Chirathivat, who arrived in what was then Siam from Hainan in China, and the family business has since grown to become the leader in the Thai retail sector.
By Ploy Ten Kate
© Thomson Reuters 2023 All rights reserved.