Kinross Gold profit slips, but output jumps
TORONTO, Aug 12 (Reuters) - Kinross Gold (K.TO) said on Wednesday 12 August its second-quarter profit fell 26 percent due to a foreign exchange loss, but its revenue and cash flow doubled as its three new gold mines boosted production.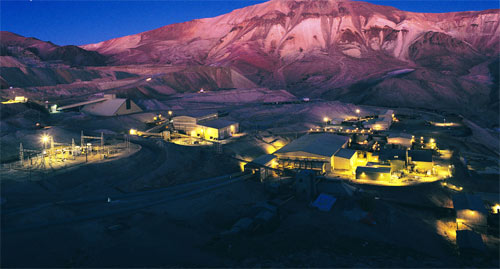 Kinross operations in La Coipa, Chile - Photo: www.kinross.com
The Canadian gold miner earned $19.3 million, or 3 cents a share, in the quarter ended June 30, down from net profit of $26 million, or 4 cents a share, in the year-before period.
Stripping out a $57.5 million foreign exchange loss and some smaller items, adjusted earnings were 12 cents a share.
Analysts polled by Thomson Reuters had expected, on average, a profit of 13 cents a share before items.
Quarterly revenue jumped to $598.1 million from $298.7, helped by production from the Kupol mine in Russia and the Buckhorn mine in Washington State, which opened last year, as well as the Paracatu expansion in Brazil, which ramped up during the second quarter.
Cash flow before changes in working capital rose to $227 .1 million from $110.8 million in the year-before quarter.
Production rose to 560,479 gold equivalent ounces from 406,032, while gold ounces sold rose to 583,607 from 330,633.
Cost of sales per ounce was $434, down from $466 in the year-before quarter. When factoring in silver production as a cost offset, costs were $382 an ounce, down from $418.
Cash costs per ounce are seen between $390 and $420 for the year, and likely at the higher end of the range, Kinross said.
Kinross, which has mines spread through the United States, South America, and Russia, cut its expected 2009 gold production to 2.3 million to 2.4 million from as much as 2.5 million, due to a slower than expected ramp-up at Paracatu.
The company's key development projects are the Cerro Casale project in Chile -- a joint venture with Barrick Gold (ABX.TO) -- and the Fruta Del Norte deposit in Ecuador.
Kinross also owns the Lobo Marte property in Chile, and said an initial scoping study indicates the deposit could eventually produce about 350,000 ounces a year and cost about $500 million to build.
The company also has a stake in diamond miner and retailer Harry Winston (HW.TO), and the Diavik diamond mine in Canada's Arctic.
Kinross shares, which are down 4 percent so far this year, closed at C$21.10, down 0.8 percent, on the Toronto Stock Exchange. The results were released after trading ended.
($1=$1.09 Canadian)
(Reporting by Cameron French; editing by Rob Wilson)
© Thomson Reuters 2023 All rights reserved.