(Reuters) - British retail sales volumes rose nearly three times faster than expected in July, and a surge in corporate tax receipts cut public borrowing sharply, data showed on Thursday, suggesting the recovery remains strong.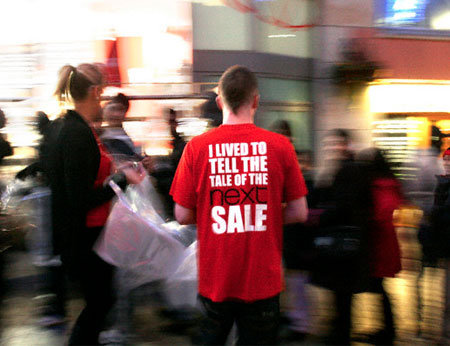 Next sales at Birmingham Bullring. Photo : Corbis
The better-than-expected figures -- plus a rise in factory orders to a two-year high -- bode well for the recovery after unusually strong second-quarter growth, and eased some concerns that the economy would rapidly lose steam.
"This and other evidence suggest GDP growth got off to a good start in Q3," said Investec chief economist Philip Shaw.
Nonetheless, most economists believe the economy will still weaken in 2011, and the Bank of England reported further falls in business and mortgage lending as well as the weakest annual broad money growth in 27 years.
The Office for National Statistics said retail sales rose 1.1 percent on the month, the strongest growth since February and well above analyst forecasts for a 0.4 percent rise. On the year, retail sales rose 1.3 percent in volume terms, again above forecasts of a 0.6 percent rise.
Sterling jumped a full cent against the dollar and half a cent versus the euro as the figures allayed some concern that British consumer and business sentiment had been faltering in the face of upcoming government spending cuts.
Fashion retailer Next, Carpetright and supermarket Asda, this month all reported a cooling in demand as shoppers fret over the likely impact of budget cuts, taxes and job losses.
"The key message is that the consumer is not yet dead," said Brian Hilliard, UK economist at Societe Generale.
The government's preferred measure of borrowing, on which its fiscal forecasts are based, "public sector net borrowing excluding financial sector interventions," came in at 3.8 billion pounds in July, down 2.3 billion pounds from a year ago.
For the fiscal year to date, PSNB-ex stood at 44.9 billion pounds, some 2.6 billion pounds lower than the April-July period in 2009 and versus a full-year forecast of 149 billion pounds.
Overall PSNB, which private-sector economists forecast, came in more than 2 billion pounds better than the market consensus at 3.173 billion pounds versus 5.518 billion pounds a year ago.
Bank of England figures showed lending to UK businesses fell for a fourth consecutive month in June and mortgage approvals hit their lowest in more than a year in July.
GROWTH AIDS BUDGET BATTLE
The sharp improvement in public finances was driven by exceptionally strong growth in receipts. Corporation tax was up 37.7 percent, while value-added tax brought in an extra 21.2 percent this month compared to a year ago.
Britain's Labour government raised VAT to 17.5 percent from 15 percent on January 1, and the Conservative/Liberal Democrat coalition that took power in May plans a rise to 20 percent next January.
"If the trend so far this fiscal year continues, borrowing in 2010/11 as a whole should slightly undershoot the Office for Budget Responsibility's forecast of 149 billion pounds by 3 billion pounds or so," said Capital Economics' Vicky Redwood.
But the Treasury quickly cautioned against reading too much into the strong receipts growth and said figures were in line with the Office for Budget Responsibility's full fiscal year forecast.
A spokesman added that the government remained committed to a programme of spending cuts which will see most government departments lose at least a quarter of their budget over the next five years.
The ONS said the retail sales gains on the month were driven by particularly strong rises in the "other stores" and "non-store retailing" categories.
The former, which includes jewellers and sports good stores, rose 6.1 percent on the month, the strongest growth since February 2008. Non-store retailing -- primarily internet and mail order firms -- rose at its fastest pace since last December.
The prospects for manufacturers look strong as well. The Confederation of British Industry reported the highest industrial order book balance in two years after overseas demand rebounded from a dip in July.
(Additional reporting by Christina Fincher, Matt Falloon and James Davey, editing by Hugh Lawson)
© Thomson Reuters 2023 All rights reserved.