Jeweller Graff plans $1 billion HK IPO
HONG KONG - London-based jeweller Graff Diamonds is looking to raise about $1 billion (621 million pounds) in a Hong Kong initial public offering planned for next year, according to a source familiar with the matter, to help fund the firm's expansion in Asia.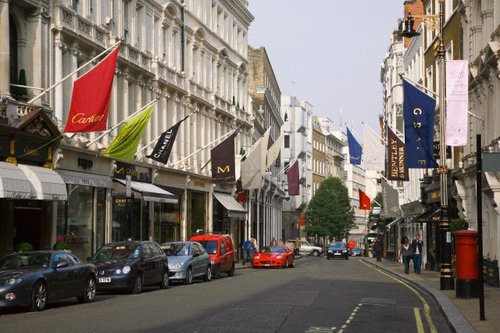 A Graff jewellery store on Bond Street, London / Photo: Corbis
While most IPO markets are virtually shut across the world due to uncertainties around the euro zone debt crisis, Graff's pursuit of a Hong Kong listing shows that companies are still positioning themselves into the pipeline.
The deal also follows a pattern of luxury brands flocking to list on the Hong Kong stock market as a platform for a broader expansion into Greater China and beyond.
The diamonds business in Asia is booming as consumers in China and India turn to diamond jewellery even in the face of a poor global economic outlook. China and India are expected by some analysts to overtake the United States in the next four years as the top diamond consumers.
Diamonds have been one of the best performing commodities this year, with rough diamond prices boosted by a dearth of new mines, low inventories at cutting centres and growing demand.
"The investment community in Asia would welcome more luxury goods, and in this case, super luxury goods like Graff," said Aaron Fischer, Head of Consumer and Gaming at CLSA Asia-Pacific Markets.
Rothschild is advising Graff on the IPO, according to the source, who declined to be named as the plan is not yet public. The Financial Times was first to report the news of the listing plans.
Hong Kong has been the top global destination for initial public offerings for two years running, in part due to its access to Asian capital and markets. Italian fashion house Prada SpA this year sold shares in a Hong Kong IPO, raising around $2.5 billion.
Graff, owned by billionaire Laurence Graff who was listed as the 13th richest man in the United Kingdom by Forbes, retails some of the world's most expensive jewellery.
Graff has 33 stores worldwide and counts the Sultan and Queen of Brunei and American property mogul Donald Trump among clients, according to Forbes.
The company would use the capital from the proposed Hong Kong IPO to open more stores in Asia, expand production of high-end pieces and finance a larger inventory of rare gemstones, the Financial Times said on Wednesday.
Graff could not immediately be reached for comment.
Hong Kong's largest jewellery retailer Chow Tai Fook -- controlled by Cheng Yu-teng, one of the city's wealthiest tycoons -- is expected to raise between $3 billion and $4 billion in an IPO early next year.
BOOMING CHINA MARKET
The increasing spending power of China's consumers in recent years has seen consumption of luxury products surge at double-digit rates as increasingly brand-conscious shoppers splash out on designer bags from LVMH, ties and scarves from Hermes International SCA and jewellery from Tiffany & Co.
Despite fears of slowing growth in the country, the Chinese consumer --boosted by an appreciating currency, rising affluence and government policies to spur consumption of disposable income-- is well-positioned to continue splurging.
CLSA Asia-Pacific Markets estimates the Chinese luxury market will have a market size of over $100 billion by 2020. Including travel spend, Greater Chinese demand is expected to account for 44 percent of the global luxury goods market by then.
At a time of global uncertainties, though, consumers are becoming more selective.
At a Sotheby's six-day Asian sale in Hong Kong in October, two rare coloured diamonds -- a fancy vivid orange and fancy vivid blue diamond -- each made record prices per carat for their specific categories but the broader fine jewels sales saw an unsold rate of 21 percent for 359 pieces offered.
Christie's auction on 25-30 November in Hong Kong will be the next barometer of emerging market demand for some of the world's most expensive artwork and luxury goods.
Chow Tai Fook is a household name in Hong Kong and throughout greater China, with 1,400 retail outlets. It competes with domestic players Luk Fook Holdings (International) Ltd, Chow Sang Sang Holdings International Ltd and Emperor Watch & Jewellery Ltd, as well as foreign brands such as Tiffany & Co.
By Michael Flaherty and Devidutta Tripathy
(Additional reporting by Farah Master; Editing by Chris Lewis and Muralikumar Anantharaman)
© Thomson Reuters 2022 All rights reserved.