Japanese luxury slide slows, China boost helps
TOKYO (Reuters) - For the designer brands whose pristine, glass-fronted stores line Tokyo's upmarket shopping avenues, the good news about the market in Japan is that it is not shrinking as fast as last year.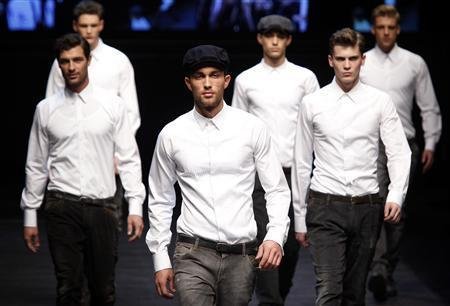 Long the world's most avid consumers of luxury goods, the Japanese have pulled their purse-strings so tight that retailers are counting on an expected influx of prestige-hungry Chinese tourists to trigger growth.
U.S. Management consultants Bain & Company predict 4 percent growth for 2010 in the luxury market across all geographical areas excluding Japan, where they see a 3 percent fall in sales, compared with a 10 percent drop in 2009.
"Japan is now a difficult market and still very much uncertain. The market is flat at best," Florent Perrichon, CEO of Italian fashion house Cerruti, told the Reuters' Global Luxury Summit this week.
Others see a glimmer of hope for later in the year.
Reported luxury sales were down about 5 to 6 percent for the first quarter, according to Brian Salsberg, a Tokyo-based consultant with McKinsey & Company.
"On the other hand, based on our recent interactions with some dozen luxury executives in Japan, most are cautiously optimistic about the second half of the year," he told the summit.
There are some positive signs in the general economy.
Japanese wage earners' total cash earnings rose the most in 4- years in April, climbing 1.5 percent from a year earlier.
Consumer confidence has also crept back to the highest levels seen since October 2007.
But unemployment remains close to record highs and the long-term demographic outlook is hardly rosy for the world's most rapidly aging country, whose 128-million strong population is also forecast to shrink drastically over the next 50 years.
CHINESE TOURISTS BOOST DEMAND
"I'm interested in luxury goods, but I don't buy them these days," said 62-year-old Reiko Imai, a smartly dressed housewife strolling past the mostly deserted designer boutiques of Omotesando in Tokyo on a weekday lunchtime.
She blamed the weak economy for the change in her shopping habits. "I used to go abroad and buy in bulk. Hong Kong, or anywhere. But not recently," she said.
That attitude is casting a pall over brands like jeweler Tiffany & Co (TIF.N), which suffered a 10 percent drop in sales in Japan in the first quarter, whereas worldwide sales were up 10 percent and Asia ex-Japan ballooned by 21 percent.
There is some evidence that entry-level products are suffering more than the top end.
Italian clothing brand Dolce & Gabbana plans to scale back its Japan operation by closing its 18 mid-priced D&G stores, leaving only its more upmarket Dolce & Gabbana label.
But upscale Japanese jeweler Mikimoto & Co, which maintains its aspirational image by steering clear of the mid-market, has started to see a recovery in sales of items costing more than 10 million yen, its president said in an interview this week.
Across the luxury spectrum, retailers are celebrating the recent influx of Chinese tourists. Sales to Chinese customers at Mikimoto's flagship store in upscale Ginza tripled in February from a year earlier.
Japan's Department Store Association says sales to foreign tourists grew 42 percent in March on the previous year, while overall sales have been falling each month for more than two years. Mainland Chinese customers are the most numerous.
"They seem to see making purchases at a Japanese department store as a status symbol," said an official at the association, when asked why tourists should opt to buy in Japan, rather than at the designer boutiques springing up at home. "They know they are getting the real thing."
More than a million Chinese visited last year and visa changes planned for July will open up the possibility of individual travel to Japan for 16 million middle-class Chinese families, possibly providing a further boost.
Analysts warn the leg-up from China won't propel Japan back to its heyday of luxury consumption. A combination of demographics, cultural changes and the price transparency associated with new ways of shopping, such as outlet malls and the Internet, will keep a lid on profits.
But demand will not disappear.
"Will Japan continue to be an attractive luxury goods market?" asked McKinsey's Salsberg. "Yes, it is a huge market. There is still a lot of money there. There is still an appreciation for foreign goods, for European goods and for quality." (Editing by Valerie Lee)
© Thomson Reuters 2023 All rights reserved.