Japan's Shiseido aims to beat China market growth
May 25 - Shiseido, Japan's top cosmetics firm, is aiming to grow its Chinese cosmetics business faster than the market and is considering boosting the use of local raw materials to lower production costs.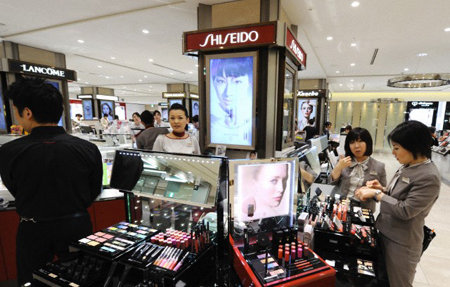 Japanese consumers shop for Shiseido in Tokyo (Photo: Corbis)
"I want Shiseido to surpass the overall growth rate in the Chinese market and to reach the mid-to-high teens," Hisayuki Suekawa, Shiseido's president, said in an interview for the Reuters Global Luxury and Fashion Summit.
One of the world's oldest cosmetics companies, Shiseido has been relying on China, where it has 5,000 speciality stores, as a growth engine as its profits slip in Japan, where the population is shrinking.
But Shiseido, with its namesake line of cosmetics and others such as Maquillage cosmetics and Cle de Peau Beaute prestige products, has also been grappling with higher wages and increased competition in China, prompting it to look for ways to lower costs.
"When we brought the production technology over from Japan, the (supply) deals came as well, so much of raw materials used still come from Japan," Suekawa said at the firm's headquarters in Tokyo.
"The focus previously was (on procurement from Japan), but we have made a list of local Chinese suppliers and are now trying to match our needs to them."
Suekawa said that slightly more than half of the raw materials used at its two Chinese factories come from China.
OVERSEAS PUSH
Shiseido forecast a 40 billion yen ($488 million) operating profit for the year that started in April, a 10 percent decline from its previous year amid expectations of weaker consumer demand in its core Japan market and increased marketing investment.
To help it offset sliding demand at home, the company, which began as Japan's first Western-style pharmacy in 1872, is looking overseas for profit growth and has set a goal of having multiple global brands that exceed a scale of 50-100 billion yen a year in sales.
In a three-year strategic plan announced in April, Shiseido said it plans to spend an additional 20 billion yen, 13 billion of which marked for use overseas, in its current financial year, on marketing and investment.
Suekawa also said the company which competes with France's L'Oreal and Estee Lauder (EL.N) in sales of high-end cosmetics, would look into acquisitions as part of its growth strategy.
Last year, Shiseido purchased U.S. cosmetics firm Bare Escentuals for $1.7 billion.
Earlier this month, Shiseido was outbid by Spanish perfume maker Puig to buy a 45 percent stake in French fashion house Jean-Paul Gaultier from Hermes (HRMS.PA). Shiseido's Paris-based unit has a perfume license contract with Gaultier.

(Reporting by James Topham and Ritsuko Shimizu; Editing by Nathan Layne and Matt Driskill)
© Thomson Reuters 2022 All rights reserved.