Japan department stores Takashimaya and H2O cancel merger
By Taiga Uranaka
TOKYO, March 25 (Reuters) - Japanese department stores Takashimaya (8233.T) and H2O Retailing (8242.T) cancelled plans to merge on Thursday 25 March due to differences over the merger ratio and strategy to cope in the rapidly shrinking market.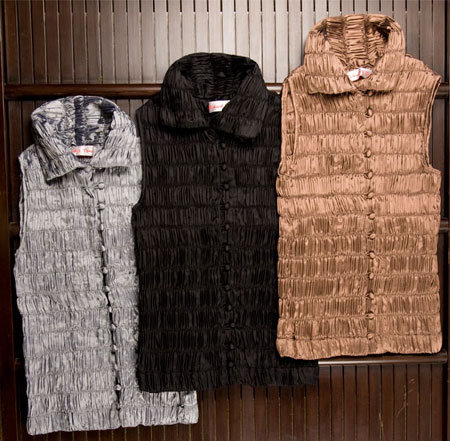 Women's fashion at Takashimaya department store in New York - Photo: www.takashimaya-ny.com
Takashimaya and H2O had agreed in October 2008 to merge their operations within three years, creating a company roughly as large as industry leader Isetan Mitsukoshi (3099.T), and had taken stakes of 10 percent in each other to cement their ties.
The dissolution of the merger will force both firms to forge a new strategy to survive a market that has shrunk by a third in the past two decades, hit by a sluggish economy and competition from budget chains and suburban shopping malls.
The combination of Takashimaya and H2O would have marked the third major merger in the department store industry following recent deals to create Isetan Mitsukoshi and No. 2-ranked J.Front Retailing (3086.T).
Takashimaya has 20 stores in Japan and three overseas. It has major stores in Yokohama and Tokyo, while H2O's operations are focused on the western city of Osaka.
"It would have been a good combination, since Takashimaya and H2O have few store overlaps geographically," said Shun Tanaka, chief analyst at SMBC Friend Research Center.
"There are too many Japanese department stores. Store floor space has not decreased even while sales have plummeted."
Takashimaya President Koji Suzuki said the two companies could not agree on merchandising and other strategies to tackle the tough business environment. They also failed to reach a consensus on the merger ratio, Suzuki said.
Takashimaya has a market value of about $2.6 billion, roughly double that of H20, which runs the Hanshin and Hankyu department store chains.
Takashimaya said it would close its loss-making store on New York City's Fifth Avenue as part of a shift in focus to Asia. It already has stores in Taiwan and Singapore and plans to open one in Shanghai in 2012.
Suzuki said the company was not considering any store closures in Japan and would not seek a new merger partner.
"Scale is not neccessarily a strength for a department store operator," Suzuki told a news conference on Thursday 25 March.
Since peaking at 9.7 trillion yen ($105.3 billion) in 1991, Japan's department store sales have declined steadily to 6.6 trillion yen last year, reflecting customer flight to clothing chains like budget fashion retailer Uniqlo (9983.T).
The industry's woes have been exacerbated by the global economic downturn, with major chains suffering double-digit sales fall for months.
Takashimaya and H2O both said they planned to keep their stakes in each other and operational ties, which include collaboration in procurement and marketing.
"We have reached a conclusion that it's better to develop operational alliances in areas beneficial to both than to rush into a half-baked merger," H2O Retailing CEO Shunichi Sugioka told a seperate news conference.
Prior to the announcement, shares of Takashimaya closed down 0.8 percent at 719 yen, while H20 fell 0.8 percent to 618 yen. The benchmark Nikkei average .N225 gained 0.1 percent. ($1=92.09 Yen) (Additional reporting by Nobuhiro Kubo and Yumi Horie)
© Thomson Reuters 2022 All rights reserved.