Japan crisis cuts demand for platinum group metals
March 16 - Japan's nuclear crisis has hit demand for platinum group metals (PGM), with some of the world's top auto makers forced to halt production of vehicles that use the metals for autocatalysts.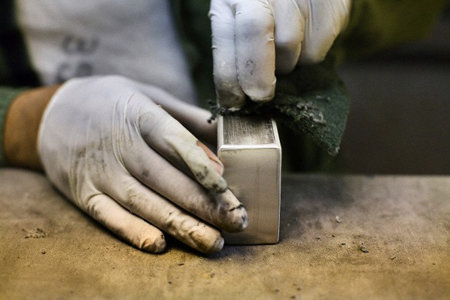 With a ratty sponge and ripped plastic gloves a worker polishes and shapes a piece of platinum worth nearly half a million dollars at Impala Refinery in Springs, South Africa on Oct. 24, 2007
After Friday's devastating earthquake in Japan, platinum XPT= has notched its biggest two-day loss in four months, and palladium also lost as much as 7 percent. Both metals partially recovered on Wednesday.
Japan is by far the largest single user of platinum. In 2010, it accounted for nearly a fifth of global platinum autocatalyst demand, and 15 percent of world palladium demand.
Car makers are the biggest buyers of platinum and palladium. PGMs are used as catalytic converters and particulate filters to clean exhaust fumes from tailpipes.
Platinum group metals, also used for jewelry, were already under pressure from mounting political unrest in the Middle East and North Africa, which threatened the global economy.
"If the automobile production in Japan is disrupted due to power outages and dislocation, the negative impact is going to be felt more by the PGM than any other metals," said James Steel, chief commodity analyst at HSBC.
"The shortfall in Japanese auto production cannot be fully made up by outside producers because of parts and other supply chain issues. Until vehicle production is restored in Japan, it is unclear how much PGM demand may be lost," Steel said.
Japanese auto makers, led by Toyota Motor Co., the world's No. 1 car maker, are struggling to restart production amid a shortage of parts and workers.
Toyota has halted operations at its 12 main assembly plants, and lost production is estimated at 95,000 vehicles.
Other major car makers including Nissan and Honda also stopped production after Friday's earthquake crippled roads, railways and ports.

JEWELRY, EXCHANGE TRADED PRODUCTS
Japan is also the second-largest consumer of platinum jewelry after China.
"Jewelry demand as well as investment, whether physical or speculative, is also likely to suffer in the short term," said Suki Cooper, precious metals analyst of Barclays Capital.
A simultaneous outflow in PGM exchange traded products (ETPs) could exacerbate selling pressure in the metals, Cooper said.
On Wednesday, holdings of the U.S. ETFS Physical Platinum Shares remained at a record high, while those of the ETFS Physical Palladium Shares were just off their all-time peak.
But analysts said fundamentals of PGM should remain bright once Japan's crisis ends.
"Although PGM prices are likely to remain under pressure in the near term, the market balance is still set to tighten longer term," Suki said.
By Frank Tang
(Editing by David Gregorio)
© Thomson Reuters 2023 All rights reserved.