James Nolan, winner of the Triumph Inspiration Award 2009
On the 24th of September 2009, at the same time as the opening evening of the Milan Fashion Week, lingerie brand Triumph was presenting awards to the winners of its competition. English designer James Nolan took the first prize for his architectural creation "Odile & Odette", followed by Katinka Pool for "Harbour Mirage" and Shani Elkin with "Jerusalem".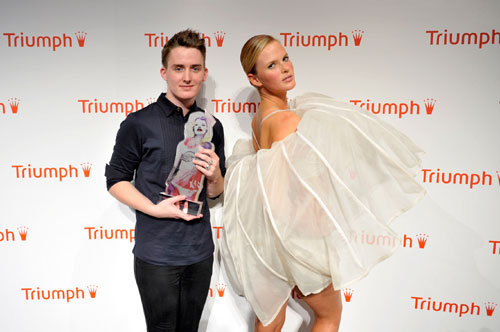 James Nolan, winner of the Triumph Inspiration Award 2009 and his design
Although the competition is only in its second year it already has a great appeal in fashion and styling schools around the world. This is because of the prize; in addition to receiving €15,000 the winner gets to see their design adapted by the Triumph style team such that it can be distributed in its boutiques. This has been a springboard onto the global stage for James Nolan, who is just 20 years old. Second and third place designers Katinka Poole and Shani Elkin won €10,000 and €5,000 respectively.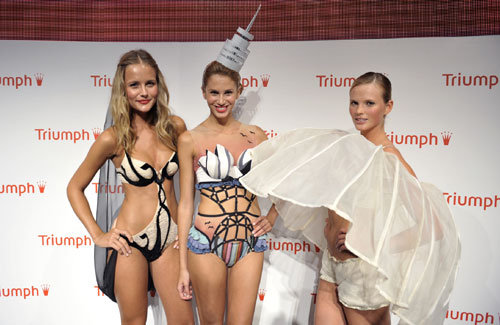 Left to right: Shani Elkin's "Jerusalem", Katinka Poole's "Harbour Mirage" and James Nolan's "Odette & Odile"
After a country by country selection – 28 nations this year – of designs based on the theme "Icons", the national finalists found themselves in front of a very cosmopolitan jury that included: Hillary Swank, Franc Sozzani – the editor in chief of Vogue Italy, Wichy Hassan – co-founder and artistic director of Miss Sixty and Jan Rosenberg – director general for sales and marketing of the Triumph International group.
Triumph International posted a turnover of 2.37 billion Swiss francs last year, a sum reached following business in over 120 countries. The group also has a bulging lingerie brand portfolio, of particular note Triumph, Sloggi and HOM.

By Jonathan Fulwell (Source: Emilie-Alice Fabrizi)
Copyright © 2022 FashionNetwork.com All rights reserved.