James Bond's watchmaker says Olympics to lure young
By Katie Reid and Silke Koltrowitz
ZURICH (Reuters Life!) - Cool snowboarders and acrobatic freestyle skiers may boost official timekeeper Omega's street-cred amongst a younger crowd at the Winter Olympics in Vancouver, the Swiss watchmaker's chief executive told Reuters.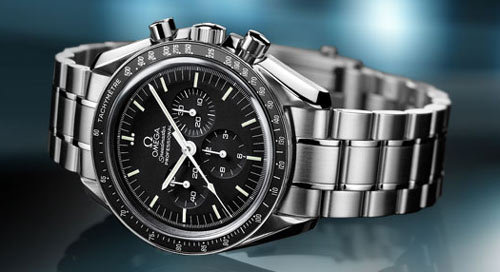 Omega Speedmaster from the Swatch Group
"In terms of the age group, we will definitely be able to reach a younger audience. The Winter Games are even better for this than the Summer Games," CEO Stephen Urquhart said.
"There are more extreme and cutting-edge sports such as snowboarding and freestyle skiing. And bobsleigh is wild, I have been on one, I know what I am talking about," he said.
Omega -- which makes the watch worn on the silver screen by fictional British secret agent James Bond and is part of the world's largest watchmaker Swatch Group -- expects the Games will also bring more optimism to North America, which has been hit hard by the economic downturn.
"Obviously the high-end luxury sector has been difficult, especially in North America, but things are getting better," Urquhart said.
"We think the Olympics offer a very positive message in this environment...(and) can only have a positive effect on people's mood in the United States, Canada and the world in general," he said.
The outlook for the Swiss watch industry is already starting to brighten as shoppers treat themselves after months of restraint and there are hopes a return to big bonuses for Wall Street's top earners could also give the sector a boost.
"The year (2009) for Omega and Swatch Group as a whole ended on a better note than had been expected and the beginning of the year looks like it will continue in the same way. At Omega, we are cautiously optimistic and we look to be on track for 2010," Urquhart said.
Swatch Group said earlier this month it expected stronger demand for its timepieces this year as consumers in most countries loosen their purse strings.
Omega first timed the Olympics in 1932. It has around 240 people at Olympic venues in and around the western Canadian city of Vancouver, and will use tens of thousands of kilometers of cable to time the games.
(Editing by Paul Casciato)
© Thomson Reuters 2022 All rights reserved.