Jakarta Fashion Week opens in Indonesia
The Jakarta Fashion Week 2009/2010 (JFW 09/10) is here and this year the Governor of DKI Jakarta, Fauzi Bowo opened the festivities, which are taking place in the luxurious Pacific Place Mall from 14-19 November. As the event that outlines Indonesia's 2010 fashion trends, Jakarta Fashion Week is part of the ongoing effort to consolidate not only Jakarta as a prominent fashion hub in Asia but also to introduce Indonesian Fashion to the rest of the world.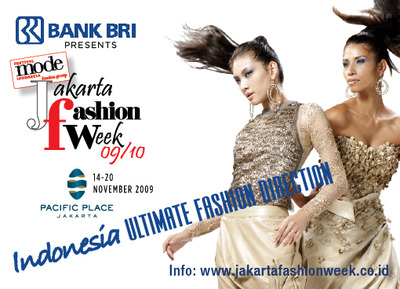 Photo: Jakarta Fashion Week 09/10
This year, JFW hosts no less than 60 of Indonesia's top designers including Carmanita, Ghea Panggabean, Poppy Dharsono, Stephanus Hamy, Taruna Kusmayadi, Anne Avantie, Oscar Lawalata, Deden Siswanto, Barli, and Oka Diputra.
Aside from highlighting the talents of Indonesia's local designers, JFW 09/10 will present a collaboration between Indonesia and India. This cultural collaboration merges two events, the Festival of India and Jakarta Fashion Week 09/10. Two of Indonesia's most acclaimed designers, Sebastian Gunawan and Priyo Oktaviano, will join two of India's most distinguished, Tarun Tahiliani and Malini Ramani, in showcasing their interpretation of each other's cultural wealth at the Gala Dinner Charity Night hosted by Dewi Magazine.
JFW 09/10 is also seeking to introduce new and upcoming young designers with the Fashion Design Competition (LPM) 2009. Founded in 1979 by Femina and Gadis magazines, this competition has jumpstarted the careers of many talents and the winner of this year's competition will receive the opportunity to study at The Fashion Institute of Design and Merchandising, Los Angeles.
"We hope that JFW 09/10 will be bigger and better from last year. This is one of the ways for us to champion Indonesian Fashion so that it may be more appreciated by its public," explained Svida Alisjahbana, Chief Operating Officer of Femina Group and Head Director of JFW 09/10.
"Jakarta Fashion Week, which is held for the second time in Pacific Place is the official fashion event in Indonesia. It delivers a multitude of ideas, creativity and the actual materialization of Indonesia's best talents. It serves as a platform, which should also inspire not only the critics and consumers but also the movers and shakers of Indonesia's fashion scene. We are honored to be given the confidence to host this annual event. Hopefully JFW 09/10 will offer added value to the visitors and tenants of Pacific Place Mall as well as the Indonesian public in general," says Ruth Setyawati, General Manager Marketing & Communication of Pacific Place Mall Jakarta.
Perhaps this event will help push Indonesia firmly onto the global fashion scene.
Copyright © 2023 FashionNetwork.com All rights reserved.