Jack Ma Chairman and Chief Officer of Alibaba Group
Alibaba Group said on Thursday it has reorganized Taobao, China's largest e-commerce website, into three separate companies, squashing any chance of a Taobao public offering.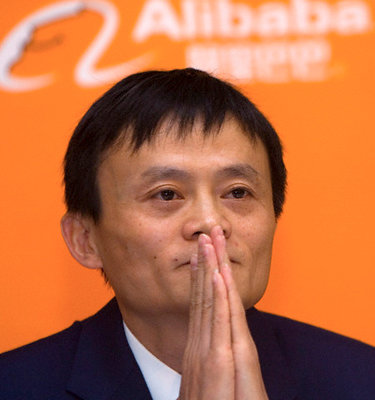 Jack Ma Chairman and Chief Officer of Alibaba Group (Photo:Corbis)
The move to split Taobao comes as Alibaba Group founder Jack Ma grapples with its major shareholders, Yahoo Inc and Japan's Softbank, over ownership of Alipay, another of the group's crown jewels.
Taobao had 70 percent of all online sales transacted in China in the first quarter of the year and has been valued by Goldman Sachs at about $7 billion.
The firm will be split effective from Thursday into three companies, namely its product search engine eTao, business-to-consumer website Taobao Mall and consumer-to-consumer website Taobao.com.
"We believe that reorganizing Taobao into smaller companies will create more value for the whole industry, and therefore, more value to our company and shareholders," Ma said in a letter to employees.
Ma also said he did not rule out taking Alibaba Group public in the future to reward employees and shareholders.
Yahoo owns about 40 percent of Alibaba Group, while Softbank owns about a third. Alibaba.com is the group's listed business-to-business unit.
The move to split Taobao into three means killing all chances that the firm will list and there is no listing timetable for Alibaba Group, said John Spelich, a spokesman for Alibaba Group.
"We feel the decision to split Taobao into three companies makes abundantly clear what we have been saying for years - there is no Taobao IPO," Spelich said in an email.
Analysts said the listing for Alibaba Group could take a few years, meaning Yahoo will have a longer wait to unlock the value of its prized Chinese asset.
Alibaba Group, which has wanted to buy back its stake from Yahoo, has tussled with Yahoo over the valuation of Taobao. Previously, Yahoo was reportedly waiting for a Taobao listing before considering selling its stake back to Alibaba Group.
"They will take longer to do a listing of the group than it would to do a listing of Taobao," said Mark Natkin, managing director of Beijing-based technology consultancy Marbridge Consulting.
A longer wait for a group listing may force Yahoo to consider other options to unlock the value of its Chinese assets, Natkin said.
The reorganization will serve Taobao well, analysts said, as it competes with numerous smaller players such as Dangdang and 360buy.com, to sell books, electronics and baby items to Chinese consumers online.
"From a business point of view it does make sense because currently Taobao is a combination of different business models," said Edward Yu, chief executive of Beijing-based consulting firm Analysys International.
Jonathan Lu will step down as Taobao's chief executive to focus on his role as Alibaba.com's head. Each of the three Taobao entities will have their own presidents.
Earlier this year, Lu was appointed CEO of Alibaba.
Alibaba.com's shares were up 4 percent at an intraday high of HK$11.88, outperforming the main Hang Seng Index's 1.7 percent decline.
Ma was quoted this week saying that negotiations with Softbank's chief executive over ownership of the Alipay e-payment unit were very tough, but discussions with Yahoo Inc are on track.
Ownership of Alipay was transferred to a company owned by Ma to abide by Chinese regulations and to obtain an e-payment license, according to Alibaba.

By Melanie Lee
(Additional reporting by Lee Chyen Yee in Hong Kong; Editing by Lincoln Feast and Vinu Pilakkott)
© Thomson Reuters 2022 All rights reserved.