Italy's Damiani sees better Christmas this year
MILAN (Reuters) - Italian jeweller Damiani (DMN.MI) expects the Christmas season to be better than last year, its chief executive said, citing signs of some new optimism after a "not great" summer.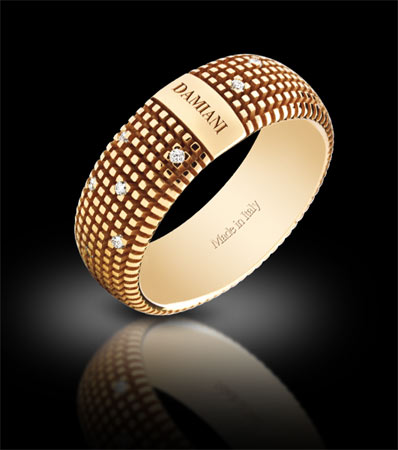 Photo: www.damiani.com
Damiani, which relies on movie stars such as Brad Pitt and Sharon Stone to promote its jewels, said it felt there was more confidence now among its partners and retailers than there was in the spring.
"There is a more optimistic feeling around... People are more open to projects," Chief Executive Guido Damiani told Reuters at the company's headquarters.
"I believe Christmas will be a little better this year than last year."
He said Damiani, which dates back to 1924, makes nearly half of its annual turnover during the Christmas season which starts in September and last until the end of the year.
The quieter summer period was "not great," he said, noting that sales in July and August sales did not improve against the previous quarter. "This year will be worse than last year for everybody."
Jewelry, together with watches, have been the hardest hit within the luxury industry by the collapse in discretionary spending over the past year.
Damiani is bigger than France's privately-held Mauboussin but trails market leaders Bulgari (BULG.MI), Cartier (CFR.VX), Van Cleef & Arpels and Tiffany's (TIF.N). Most jewellers, including Tiffany's, expect sales to fall this year.
Damiani, whose jewelry includes items such as "Shark Jaw" arm bracelets in platinum and yellow gold, also will have lower capital expenditure this year than in 2008 but would be open to acquisitions if good opportunities arose, Damiani said.
"We are not looking but we could take it into consideration, if there is a good opportunity," he said.
He added there were no plans to expand the group's retail network after having bought jewelry and watch retail chain Rocca last year. Following the acquisition, 85 percent of sales come from wholesale versus 95 percent previously.
Damiani has 80 stores worldwide, both mono and multi-brand.
DESIGNING WITH SHARON STONE
Damiani is one of Italy's largest jewelry designers and producers, having started in Valenza, one of the country's main jewelry manufacturing centers.
It traces its roots back to Enrico Grassi Damiani who began designing diamond jewelry. He was also a personal jeweller to affluent Italian families.
Guido Damiani, grandson of the company's founder, said his family was not against cutting its stake in the medium term, market conditions permitting. The family directly and indirectly controls about 77 percent of the company.
Damiani listed on the Milan bourse in 2007.
In the pipeline is a new watch line, which will be launched at the Basel fair next year. A jewelry line co-designed with Sharon Stone will be launched before Christmas, and part of the proceeds will go to building wells in Africa.
The company also has projects with design houses such as Jil Sander and Gianfranco Ferre and could do more with other brands.
Damiani said he did not expect gold prices to remain as high as they have been, with the metal hitting more than $1,000 an ounce for only the third time in history on Tuesday 8 September.
"If you have such high (gold) prices, especially in this environment, it affects your margins. In a market that is already difficult, you cannot just raise prices if gold rises," he said, adding Damiani had not changed its gold purchases.
Damiani swung to a net loss for the first quarter of 3 million euros ($4.37 million). Sales in the April-June period slipped to 33.4 million euros from 39.2 million euros a year ago, when it posted a net profit of 2.1 million euros.
(By Marie-Louise Gumuchian and Astrid Wendlandt. Additional reporting by Cristina Carlevaro; Editing by Hans Peters)
($1=.6860 Euro)
© Thomson Reuters 2023 All rights reserved.