Italy's Cucinelli launches 150 million euro IPO
Italian clothing company Brunello Cucinelli opens books on Monday on a initial public offer (IPO) seeking an up to 530 million euro ($698.3 million) valuation for the firm and a windfall of up to 96 million euros for its current owners.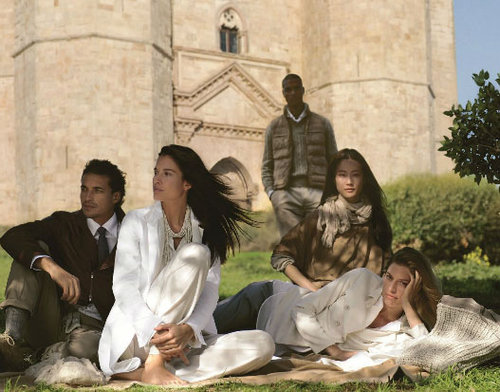 Cucinelli's Spring-Summer 2012 ad campaign / Photo: Cucinelli
Cucinelli, famous for its cashmere sweaters worn by Prince William and Hollywood stars such as Demi Moore, said on Friday it will offer shares for between 6.75 and 7.75 euros each, aiming to start trading on the Italian exchange on May 3.
A banking source close to the 150 million euro deal said the shares are being offered at a discount to peers such as Ferragamo, Tod's, LVMH or Prada.
The range will imply a valuation for the company after the deal of between 18 and 21 times 2012 earnings, while peers trade at 21 to 22 times forward earnings, the source said.
The sale of 20.4 million shares, running from April 16 to April 27, will bring to the market a 30 percent stake, or 33 percent if global coordinators BofA Merrill Lynch and Mediobanca fully exercise the "greenshoe" option.
The offer comprises 12.4 million shares offered by current owners, while 8 million new shares will be issued with proceeds used to boost the company's balance sheet.
Bankers and management will start meeting investors in Milan on Monday before moving on to London on Wednesday where they expect much of the demand to come from, the source said.
Investors in France, Germany and Switzerland are also expected to take up a considerable amount of the book, though 10 percent of the deal will be set aside for Italian retail investors, the source added.
Cucinelli has also agreed to sell 2 percent of the shares pre-capital increase to a Chinese investor, Chen Long, owner of the Sichuan Lessin Department Stores with which it operates a joint venture in China, the prospectus says.
Chen Long will buy the shares for 8.5 million euros, or 7.08 euros each, it says.
The IPO is an expression of confidence in the crisis-hit Italian bourse after the success of Ferragamo's listing last year and the loss of fashion house Prada to an Asian listing in 2011.
Cucinelli, based in Italy's Umbria region, posted 2011 net sales of 243 million euros and core earnings of 40 million. The listing values the company at an enterprise value of between 11.3 and 12.8 times core earnings, according to the prospectus.
© Thomson Reuters 2023 All rights reserved.