Italy's Bulgari narrows 2008 forecasts
By Marie-Louise Gumuchian
MILAN (Reuters) - Bulgari expects sales and key profit measures to rise between 8 and 10 percent this year, narrowing a previous forecast as tough economic conditions bite, the chief executive of the Italian jeweller told Reuters.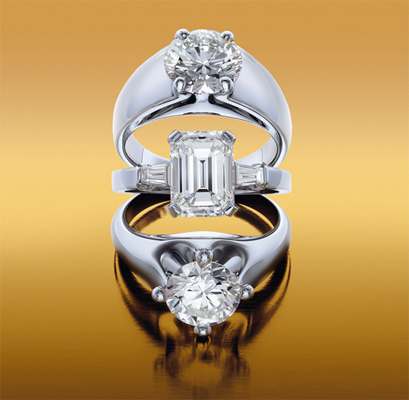 Bulgari Bridal
Bulgari said on Friday first-half net profit fell 7.1 percent to 54 million euros ($84.1 million) and trimmed its forecast from a previous 8 to 12 percent rise for sales, at constant exchange rates, and for operating and net profit.
"We invite people to be on the safe side and look at the lower end of the bracket," CEO Francesco Trapani told Reuters in a telephone interview on Friday.
Investors are eyeing luxury watchmakers and jewellers for signs that the wealthy are spending less as a result of a credit crisis which has dampened overall consumer expenditure.
Richemont this month posted a forecast-beating 13 percent rise in first-quarter sales as strong demand from China and Hong Kong helped protect the world's No.2 luxury goods maker from economic turmoil.
Bulgari saw sales rise 4 percent to 506 million euros in the first half. At constant exchange rates, they rose 8.3 percent.
"We are actually selling less than our goals. If we talk about net profit ... we are actually in line, a little bit better than our expectations," Trapani said.
He said he expected a pick-up towards the end of the year. Bulgari opened several stores at the end of last year.
"Our expectation is that we are going to be short of the last year profit until September and then we are going to go over in the last months of the year," Trapani said.
Bulgari said "considerable" growth rates were achieved in all areas, apart from Italy and the United States where sales fell. For the rest of Europe, sales rose, with "brilliant" results in France and Germany. They also rose in the Middle East, Asia and in Japan.
NO BIG CHANGES
Trapani also said he expected no big change in the group's performance in Europe, nor in the United States, which he said had been "better than we thought."
"Italy is suffering a lot ... Spain is suffering, London is suffering. Instead, France, Germany, Russia are performing very well. We expect no big changes, things will continue like this."
Despite difficult market conditions in Japan, Trapani said Bulgari was enjoying growth there after opening a flagship store in Tokyo late last year. "We expect to continue some growth in Japan for the rest of the year," he said.
He said July had been "in line with our expectations" and the Rome-based jeweller would further raise prices.
"We have increased some of our prices in some countries and we are going to do the same thing also ... during this year," he said.
Bulgari, which released results after the market closed, said jewellery sales rose 3 percent in the first half. Excluding the $13.5 million sale of a pair of earrings last year, they rose 12.7 percent.
Bulgari said watch sales fell by about 5 percent, partly because of production problems linked to the late delivery of components. Trapani said in the statement he expected these hitches to be partially overcome in the second half of the year and sales to pick up with the launch of new lines that were successful at the Basel watch and jewellery trade fair in April.
Accessories also saw sales rise while perfumes were "outstanding," driven by the launch of a new male fragrance.
(Editing by David Holmes)
© Thomson Reuters 2023 All rights reserved.