Istanbul launches Fashion Days
From the 26th to the 29th of August the biggest city in Turkey, Istanbul, will be moving to the rhythm of fashion. It is here that the first edition of Istanbul Fashion Days (IFD) will be held. On the menu, catwalks, a professional trade show and competition to support youth design.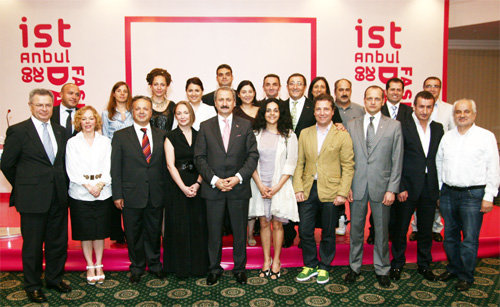 The team from Istanbul Fashion Days on both sides of Zafer Çağlayan, Minister of Exterior Commerce.
It must be said that the city has always been an important crossroads in the exchange of good and information, particularly on the old silk road. This is what gives it a prime position in fashion, a sector which already plays a driving role in the economy.
Organised by the ITKIB (Istanbul Textile Exportation Association) and the Fashion Designers Association (MTD), the Istanbul Fashion Days have the objective of developing the visibility of the Turkish market in world fashion.
Under the communal banner of Istanbul Fashion Days, the event will bring together three groups: Brandist (fashion trade show), the Istanbul Fashion Lab (catwalks and showrooms), as well as the competition for young designers, Koza.
On the catwalks creations from Turkish designers will be showcased including womenswear collections (Idil Tarzi, Arzu Kaprol, Bahar Korcan, Ozlem Suer…), menswear (Avva, Ramsey…), beachwear (Sunset, Deniz Mercan) and more from young talents (Müge Ersin, Simay Bülbül, Pinar Kaplankiran…), but also from brands which already have an established distribution network (Koton, Gizia). The shows will get underway on the campus of Taskisla: Technical University of Istanbul (ITÜ).
By Jonathan Fulwell (Source: C. Vautard)
Copyright © 2022 FashionNetwork.com All rights reserved.