Is "green" fashion sustainable? Designers say yes
By Chelsea Emery
NEW YORK (Reuters) - Fashion trends come and go, but "green" is here to stay, say designers and sponsors at New York's fashion shows this week.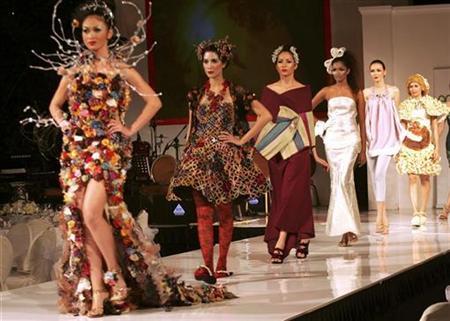 Scores of lines boasting biodegradable fabrics, recycled thread or organic materials are sashaying down the catwalks and, if sales of the often more-costly clothing meet expectations, designers and labels will have profitable new revenue streams.
But fashion is fickle, and any hot fad risks being pushed to the back of the closet like 1980s' shoulder pads.
Still, companies such as cosmetics powerhouse Aveda and designers such as Abi Ferrin are banking that the sustainable approach to style has staying power.
"To characterize the environment as a 'trend' is extremely shortsighted," said Aveda spokeswoman Ellen Maguire. "Going green is good business."
Backstage at the Rodarte, 3.1 Phillip Lim shows and others at the semi-annual Fashion Week sponsored by Mercedes Benz, Aveda stocked steel bottles filled with New York tap water.
The designers, in turn, agreed to avoid fur and use only post-consumer recycled paper for invitations.
Aveda is one of the fastest growing brands in cosmetics giant Estee Lauder Companies Inc's portfolio, said Maguire.
"Consumers are gravitating to companies that care for the environment," she said. "It's not a niche, it's not a trend."
So-called green clothes are being stocked in top venues. Macy's high-end department chain Bloomingdale's carries organic cotton tops and jeans, while Saks Fifth Avenue offers a $2,815 Behnaz Sarafpour organic wool coat.
"Sales people today care about how your product is made," said designer Ferrin, whose flowing garments feature environmentally friendly thread and buttons carved by Nepalese women rescued from the sex trade.
CAN IT LAST?
Ferrin also uses recycled materials for her clothing tags and, while her recycled paper printing costs are 15 percent higher, "you have more people buying your products so it evens out," she said.
Ferrin said she expects to double her sales this year to more than $1 million.
Environmentally conscious fashion "is a megatrend," said Margaret Jacob, sustainability director at Invista, which owns Lycra, a synthetic fiber used in garments to increase wear and strength. "It's a mentality, a way of thinking about business."
The focus on green manufacturing and recycled materials is galvanizing the fashion trade but will not last unless the industry sets specific standards or until consumers believe green materials will noticeably improve their lives, said Susan Scafidi, a Fordham University fashion law professor.
"The consumer needs to be convinced it's not only good for the environment but also for her," she said. "That's true of sustainability in architecture. No one wants to work in a sick building. But do we feel the same about our clothes? Not yet."
Even eco-conscious designers know the trend won't expand unless the world's highest profile stars bring "green" sensibilities into their fashions.
"It's really when you have the Tom Fords and the Michael Kors of the world using (non-plastic fibers) that we'll really start seeing an impact," said designer Elisa Jimenez, who uses soy and bamboo fiber in her garments.
Jimenez, who competed in Bravo cable channel's "Project Runway" reality show and grabbed attention for marking her fabric with spit, said most of her private clients ask for gowns using alternative fabrics, despite the higher costs.
Jimenez said events like Fashion Week are vital for making trends like eco-fashion cool and lasting.
"It has to be the highest price-point before middle class America wants it," she said. "It's like a red velvet rope."
(Editing by Michelle Nichols and Vicki Allen)
© Thomson Reuters 2023 All rights reserved.