Investors look to Vietnam's long-term promise
April 24 - Despite Vietnam's persistent economic woes, a record deal this month has shown foreign investors are still lured to the frontier market by its young, growing population and rising disposable incomes.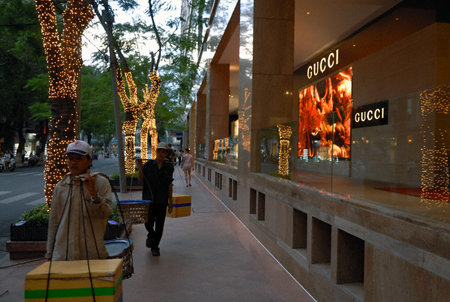 Workmen walking by Gucci store on Dong Khoi Street, Vietnam
The sealing of the communist country's largest-ever private equity deal, at a time of soaring inflation and a struggling currency, has underscored faith in Vietnam's long-term potential, beyond its current macro instabilities.
US-based investment firm Kohlberg Kravis Roberts & Co is to pay $159 million for a 10 percent stake in Masan Consumer Corp, the leading fish sauce producer in Vietnam, the companies announced on April 13.
"KKR is bullish on Vietnam," KKR spokesman Ming Lu said. "In the past decade, there has been considerable economic progress, structural reforms and a notable increase in living standards."
With annual GDP growth averaging 7.1 percent from 1990 to 2009, Vietnam's 87 million people -- about half of them under 30 -- are now a "ferocious" consumer force, according to Adam Sitkoff of the American Chamber of Commerce in Hanoi.
"Now I walk around seeing a 10-year-old Vietnamese with an iPod and a Gucci hat -- it still shocks me," he told AFP, explaining that decades of limited choice, poor quality and high prices had generated pent-up demand.
Boutique shops, BlackBerry smartphones and BMWs are almost as common as the red banners, army uniforms and loudspeakers that dot the capital Hanoi's streets -- symbols of the socialist regime still dominating the political landscape.
But rapid expansion since the early 1990s -- after the country began to turn away from a planned economy to embrace the free market -- has come at a cost to Vietnam, once celebrated as a new "Asian Tiger".
Relative to other members of the Association of Southeast Asian Nations (ASEAN) such as Singapore or Malaysia, Vietnam has struggled to keep up with its own expansion, suggested Marc Mealy of the US-ASEAN Business Council.
"In Vietnam's case, the pace of liberalisation to global capital has in some ways outpaced the development of their institutions and human resources to manage their macroeconomy," he said.
The hurdles are formidable and persistent: inflation which hit nearly 14 percent year-on-year in March, a trade deficit of an estimated $12.4 billion last year and a weak currency, the dong, devalued four times since late 2009.
Corruption and wasteful bureaucracy have also damaged Vietnam's global financial reputation, with the credit worthiness of state-owned enterprises further threatened by the near-bankruptcy of shipbuilder Vinashin.
Economic stabilisation, rather than growth, has subsequently become the government's main focus, with the ruling Communist Party announcing an overhaul of its business growth model during a five-year congress in January.
While analysts have welcomed the moves, global credit ratings agency Moody's upheld a negative outlook for Vietnam in a report issued Wednesday.
This "reflects concerns about the sustainability of the country's balance of payments despite the government's recent macro-stabilisation measures," the report said.
Moody's analyst Christian de Guzman said the country was "fraught with risks" for foreign portfolio investors considering buying Vietnamese stocks or bonds, and interest had "dried up".
But he said long-term foreign direct investment (FDI) was "still very healthy and coming through at a steady pace".
Government figures show disbursed FDI into Vietnam totalled $2.54 billion in the first quarter of 2011, up 1.6 percent from the same period last year.
Such long-term investors "believe in the strong underlying potential and believe the current macroeconomic factors to be transitory," said economist Dariusz Kowalczyk at Credit Agricole CIB.
One key attraction is lower labour costs, encouraging foreign manufacturers to relocate from China to Vietnam, or to use it in a "China plus one" strategy of adding a second production base outside the Asian giant.
"Vietnam has very strong growth potential because of the entrepreneurship of the population," Kowalczyk added. "People seem to be really driven to improve their lives."
He warned however that investors in a one-party state such as Vietnam will still want proof that it can follow China in competently managing key policy-making and thereby maintaining social stability.
"In a centrally planned economy, there's a greater risk that the government will make a mistake that will lower investment returns," Kowalczyk said.
While optimism is tempered, some believe KKR's vote of confidence could encourage further interest in Vietnam.
"KKR's deal will certainly cause some investors to take a second look," said Dan Hallett, director of asset management at HighView Financial Group, a Canadian investment management firm.
by Rachel O'Brien
© Thomson Reuters 2023 All rights reserved.