INTERVIEW : H. de la Chevasnerie: Burberry makeup given ten years to be profitable
Two years after launching its line of makeup (with the company Interparfums), Burberry returns to center stage with a new advertising campaign, authored by Mario Testino, and with new products (including a range of lipstick with more intense pigments and a high-tech foundation) that impart a more glamorous image to the English brand. Under the direct supervision of creative director Christopher Bailey, the makeup, although it is still negligible in terms of the the company's total revenues, now represents a significant aspect in terms of image for the fashion house. But the road to success can be lengthy, explains Hugues de la Chevasnerie, CEO of Burberry perfumes and makeup.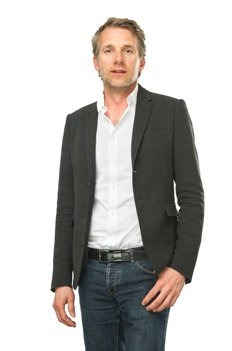 Hugues de la Chevasnerie
FashionMag.com: Why invest in the highly competitive field of makeup?
Hugues de la Chevasnerie
: The link between fashion and makeup is even more evident than with fragrance. Fashion reinvents itself with collections every three to six months, and makeup is pretty much the same. With make-up, we talk about colors, textures as we do about clothing. With us, Christopher ensures that this link is always present.
FM: How do you keep this close connection given the fact that the timing for the creation for fashion and makeup are quite different?
HdelaC
: Indeed, the fashion collections are prepared for six months, while the makeup is in development between 12 and 18 months. So we work at a very early stage, at a time when the art director does not yet know what he will do in the fashion aspect. We use as a starting point that pre-selects the fabrics. But this connection also feeds through technological research and colors. For example, our iconic trench is cut in this famous gabardine that lets the skin breathe and protects it: we transposed this to the new foundation, which became a second protective skin. In our range, we do not have pink lipstick, or sparkling colors, we remain close to our esthetic code.
FM: In the last decade fashion brands all seem eager to have their makeup line. The latest being Chistian Louboutin which announced the arrival of its cosmetics line for next year. Is this reasonable?
HdelaC
: If this link with the makeup, as I said, is evident, however it is very complicated to position oneself in this market. Makeup, globally, is held by 4 to 5 large groups who control this area and have a tremendous capacity to innovate the market they occupy and who have no desire to see the arrival of new product lines. So they put up barriers that make it difficult for newcomers.
FM: What do these barriers consist of?
HdelaC
: These makeup ranges consist of many cosmetic products. Ours comprises 150. However, points of sale cannot offer 2 to 3 square feet of space to all brands. Distribution is forced to make choices and major brands are necessarily given priority. There is little room for small ones. Retailers have no incentive to offer brands that launch and which often do not immediately find great success.
FM: How much time does it take before a makeup brand starts to make a good profit?
HdelaC
: In our case, we are left with the sense that we will not make any money for at least 10 years. It takes a long, long time to obtain consumer confidence. One builds one's legitimacy gradually, we must come forward and ensure that the image remains consistent with that of the original brand and does not succumb at all cost to trends. This is not the case with other brands. When one moves away from one's DNA is when one stumbles.
FM: We have seen some failed attempts such as Calvin Klein's, how do you explain these failures?
HdelaC
: During the last 15 years, I cannot recall any brand which has found great success in makeup. There are those who are asking themselves questions, others like that have disappeared; Armani is starting to work out but not without its difficulties; Dolce & Gabbana started out with a very ambitious plan and had to scale back. In short, it's complicated.
FM: Besides maintaining consistency, how can a fashion brand avoid the pitfalls of the make-up market?
HdelaC
: By giving itself time and inching its way little by little. Partnerships with retailers and their support are essential to success. We chose to be present in top department stores such as Harrod's, Saks, Galeries Lafayette, La Rinascente... We started out with the idea of exclusivity, working with stores with which we have established a true partnership. These are retailers, a hundred in the world, important to our image and through which we transmit our message: we are not simply a new brand of makeup, we are a new makeup brand from Burberry. Eventually, little by little, we will depart from such exclusivity, but we are not in a hurry to multiply the number of our points of sale. And we must say that the specific nature of this range is that all the colors are marketable and retailers welcome this. We offer basic colors (and at the same time - very Burberry) that are easy to wear and even when expanding the range we will remain true to this philosophy.
FM: Is bringing the makeup to the Burberry stores part of your plans?
HdelaC
: Today the make-up is not for sale alongside the clothes, however, in the new Burberry flagships stores that will open soon, there will be a space dedicated to makeup. This is the case in Taipei and at the store that will soon open on Regent Street. It gives everyone the opportunity to experience some of the brand, with the confidence that whether it be a trench coat, a pair of shoes or a lipstick, it's a Burberry.
Copyright © 2023 FashionNetwork.com All rights reserved.