India looks to cut out the middlemen on gold
MUMBAI, July 5, 2009 (AFP) - Gold has long had a special attraction for Indians. Loaded with cultural and religious significance, it is considered an auspicious metal and a visible sign of wealth and prosperity.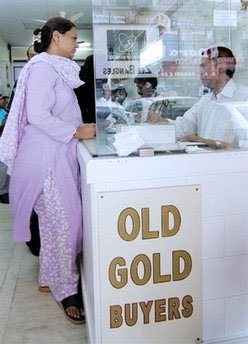 Photo: AFP/File/Sebastian D'souza
But trading in the sought-after commodity is now changing, as one company looks to secure a better deal for the millions of ordinary Indians who buy and sell the precious yellow metal for weddings and annual festivals.
National Spot Exchange Ltd, controlled by markets firm Financial Technologies India Ltd, has set up a new electronic system that looks to guarantee gold bullion prices and quality.
"What we're trying to do is to create a market so that Indians can sell gold by way of converting into gold bars or gold coins and sell it on," said National Spot Exchange's managing director and chief executive Anjani Sinha.
"At a spot exchange we can fix their price, quote the price and it's guaranteed by supply and demand. They can quote their buying price and their selling price," he told AFP at the company's offices in suburban north Mumbai.
India is the world's biggest consumer of gold, importing between 700 and 800 tonnes of the metal every year or 20 percent of global demand.
The country's gold imports have slowed in recent months due to the world economic downturn, which has pushed up prices as investors seek a safe haven from the financial uncertainty.
In January, the peak of the lavish wedding and gift-giving season, India imported only 1.8 tonnes of gold, down from 14 tonnes in the first month of 2008.
In April, the Bombay Bullion Association said that -- for the first time in more than a decade -- there were no imports at all in February and March.
Even so, Indian households are still believed to have a massive 20,000 to 25,000 tonnes of gold stashed away.
But while a market exists for imported bullion, there is no mechanism for the resale of gold jewellery and its conversion back into bars once it enters the domestic market.
As a result, ordinary Indians are forced to use merchants who commonly charge a hefty commission to melt down their gold jewellery and sell it on at a premium.
Introducing a more standardised, transparent market will cut out the middleman and be beneficial for both the consumer and the Indian economy as a whole, said Sinha.
"This market has been created basically for dealing in quality, certified standard gold," he said.
"The consumer is more in control and not dependent on somebody else when he goes to a jewellery merchant where you can't quote your own selling price."
Daily prices are linked to those at the London Bullion Market. On its first day on May 30, the spot exchange in India's financial capital traded about 50 kilograms of gold.
Selling prices were in the region of 14,450 rupees (302 dollars) per 10 grams on Friday 3 July.
To guarantee quality, the exchange, in conjunction with the Indian Bullion Markets Association, is auditing refineries that melt down jewellery into international standard "995" purity, meaning it is 995/1,000 parts pure gold.
Four refineries -- two in Mumbai and two in Ahmedabad, in nearby Gujarat state -- have already been approved. It is hoped to have 15 approved refineries by the end of the year.
Sinha's aim, like that for other commodities traded in similar ways at the company, such as cotton, is to create a common domestic market, accessible across India to get a better price for the fabled Indian "common man".
"Our pitch has been if you want this market to grow further, with integrity and credibility, you have to bring transparency into the system," he explained.by Phil Hazlewood
Copyright © 2022 AFP. All rights reserved. All information displayed in this section (dispatches, photographs, logos) are protected by intellectual property rights owned by Agence France-Presse. As a consequence you may not copy, reproduce, modify, transmit, publish, display or in any way commercially exploit any of the contents of this section without the prior written consent of Agence France-Presses.