India has potential for luxury, but not yet
NEW DELHI, April 7, 2009 (AFP) - Purveyors of luxury goods are waking up from their dream of conquering India as the last great frontier for their high-end and high-priced wares.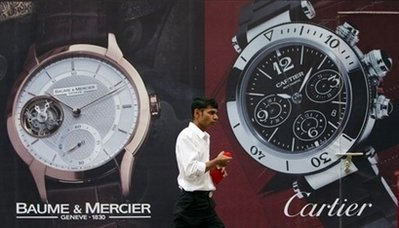 A billboard advertises a luxury watch boutique in Mumbai in late January (Photo by: AFP/File/Indranil Mukherjee)
With the world's economy in recession, luxury retailers are rethinking plans that saw them rushing into what they hoped would be the next China -- a market of more than a billion people with middle-class aspirations and their eye on the next fashion status symbol.
A combination of global downturn, domestic red tape, regulatory hurdles and a thriving trade in smuggled goods means it will be a long time yet before India becomes big business for Europe's luxury retailers, experts said.
At a recent conference in the Indian capital, industry executives conceded India has potential -- but is a long way from realising it.
"Before it becomes a very big business for us -- I am already a grandfather -- I think I will be a grand, grand, grand grandfather," Christian Blanckaert, executive vice-president of French giant Hermes International.
Delegates to the "Sustainable Luxury" conference at New Delhi's exclusive Imperial Hotel represented the broadest range of the international luxury goods industry, which has been struggling to find a strategy for dealing with the global economic downturn.
Having fattened up during the boom years, they turned their attention to emerging markets such as China and India, hoping that economic growth would create new markets where money was no object.
As European and American markets have withered, the roll-on effects of the recession are now being felt in the countries that retailers such as Hermes, Gucci and Chanel had hoped would be the source of future profits.
"It's a bit like watching a cocktail party on the Titanic," said one US fashion executive at the conference, as delegates air-kissed, sipped Champagne and nibbled canapes.
Worldwide luxury goods sales are expected to fall this year by 10-15 percent, according to US-based research consultancy Bain and Co.
India accounts for just 0.4 percent of the estimated 233.9 billion dollars in global luxury sales, Bain says.
The big luxury retailers began their foray into India in 2002, targeting the newly affluent beneficiaries of economic reforms.
So far more than 50 premium and luxury brands, including Jimmy Choo, Gucci, Christian Dior, Piaget, Moschino, Todd's, Chanel and others, have set up shop in India, opening boutiques in five-star hotels and shopping malls.
But window-shoppers have vastly outnumbered buyers, even throughout the economic boom that has just come to an end, said B.K. Murjani, who developed India's first luxury mall in Mumbai.
International brands came to India with "euphoric expectations" but had not done due diligence, said Murjani, whose Murjani Group is the biggest in India's premium sector.
Their estimates had been wildly incorrect, he said, with sales averaging 500 dollars per square foot of floorspace, compared with 3,000 to 6,000 dollars a square foot internationally.
He told the conference the average luxury retail outlet in India last year lost 375 dollars per square foot, before overheads.
Along with delegates from abroad, Murjani agreed India has great potential as a luxury goods market, but he added: "The bottom line is that Indian luxury business as it is currently structured is not a commercially viable model."
Since the mid-1980s the number of people in India living on less than a dollar a day has fallen to 54 percent of the population from 94 percent, according to global consultancy McKinsey.
Those who can afford luxury goods are a wafer-thin minority of the 1.1-billion population -- though still estimated at around 1.2 million Indian households, accounting for some two trillion rupees (40 billion dollars) in spending, McKinsey said.
Wealthy Indian shoppers have long preferred to buy their designer handbags, sunglasses, clothing and shoes abroad, avoiding Indian import duties of up to 45 percent which are another impediment to growth.
"Until duty rates drop, brand owners must lower their prices," Murjani said, adding: "The Indian consumer is very value conscious."
While consumer caution is likely to hit the profits of retailers in India from top end to bottom for the next couple of years, Italy's Giorgio Armani is aiming to use the time to build brand awareness.
John Hooks, Armani's deputy managing director, said his company has joined Indian property heavyweight DLF to open two outlets in New Delhi "just to establish our brand".
Telling the conference he had changed the title of his presentation to "Trying to do Business in India" from "Doing Business in India," he said: "It's very, very early days" for luxury retailers in this market.
Yet for Hermes -- which used Indian motifs in its recent Fantaisies Indiennes collection and has a boutique in New Delhi -- India is a "love affair" the company is happy to pursue, said Blanckaert.by Penny MacRae
Copyright © 2023 AFP. All rights reserved. All information displayed in this section (dispatches, photographs, logos) are protected by intellectual property rights owned by Agence France-Presse. As a consequence you may not copy, reproduce, modify, transmit, publish, display or in any way commercially exploit any of the contents of this section without the prior written consent of Agence France-Presses.