India gold buying retreats; rupee weakness hurts
(Reuters) - India gold buying retreated on Monday 7 June, after witnessing a slight pick-up in the last session, as traders awaited falls in prices and a weaker rupee restricted its downside, dealers said.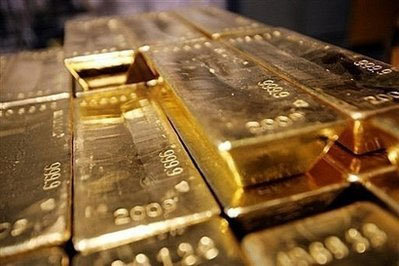 Photo: AFP/File/Sebastian Derungs
"There are no deals today... even the rupee is not supporting. Friday (4 June) was good, we did about 100 kgs in between $1,197-1,217 (an ounce)," said a dealer with a state-run bank in Mumbai.
International gold, which guides the domestic markets, was trading $1,215.10/1,215.90 an ounce as against the previous close of $1,218.00/1,222 on Friday 4 June.
Gold was slightly lower but bullion priced in euros hit a record high in Asian trade as investors sought safety amid mounting worries about eurozone debt which have knocked down the single currency.
"Anything below $1,200 could help in buying," said another dealer with a private bank.
The Indian rupee dropped to its lowest level in nearly two weeks, hurt by a sharp slide in domestic shares that raised concerns about more capital outflows while a broadly strong dollar also weighed.
A weaker rupee made the dollar-quoted asset expensive.
India gold trade has been witnessing slackness in buying since the start of May as record high prices dented demand.
May imports fell to around 17-18 tonnes from 28.6 tonnes in the same month a year ago, the head of Bombay Bullion Association (BBA) Suresh Hundia, told Reuters on May 28.
(Reporting by Siddesh Mayenkar; Editing by Ramya Venugopal)
(For more business news on Reuters India click in.reuters.com)
© Thomson Reuters 2022 All rights reserved.