India cotton prices seen under pressure on arrivals
By Sourav Mishra

MUMBAI (Reuters) - India's cotton prices are seen coming under pressure this week on continuing healthy arrivals of the commodity in the domestic market, but soaring exports may limit the losses, analysts and traders said.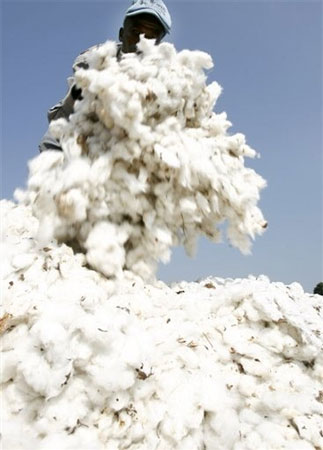 Photo: AFP
"Arrivals are very good.... prices in the short-term are seen under pressure...but if the exports continue it may support prices in the long term," said Chowda Reddy, an analyst with JRG Wealth Management.
Arrivals stood at 17.53 million bales (of 170 kg each) as on January 30, up from 17.48 million bales a year ago, data from Cotton Corporation of India showed.
The daily average arrivals stood at 180,000 bales.
"Arrivals are very good in Gujarat ....prices are down by almost 10 percent since the beginning of February," said Bipin Shah, a trader in Rajkot, Gujarat.
Arrivals rose about 42 percent to 6.1 million bales in Gujarat, while they were down 19 percent to 3.35 million bales in Maharashtra. The two states are India's top cotton producers.
Spot prices of popular medium staple Shankar-6 variety traded in the range of 3,225 rupees and 3,250 rupees per 100 kg, two traders said.
The healthy arrivals may, however, not dampen prices significantly thanks to exports, they said.
India's cotton export in the first four months of 2009/10 jumped by 245 percent to 2.79 million bales, data on textile ministry's website showed.
In Oct-Jan the country shipped 2.79 million bales, compared to 809,969 bales a year ago, data showed.
India's cotton exports are expected to jump by 57 percent to 5.5 million bales in 2009/10, A.B. Joshi, textile commissioner and chairman of Cotton Advisory Board (CAB), had earlier said.
(Editing by Sunil Nair)
© Thomson Reuters 2022 All rights reserved.