In hard times, connections are key for new designers
By Rebekah Kebede and Kristina Cooke
NEW YORK (Reuters) - When times get hard in fashion, it's not about who you know but who knows you.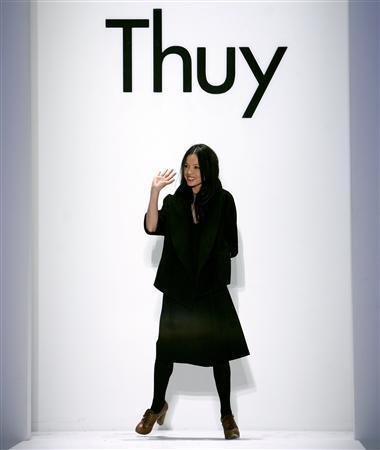 For emerging designers trying to survive a crippling recession, good connections are more important than ever, fashion experts say.
Retail buyers, struggling to move inventory when consumers are reluctant to spend, are less willing to take a risk on designers they don't already know, they say.
"To buy a piece from, say, a Prada or a Donna Karan, the bigger names, it's always an easy choice, said Thuy Diep, the designer behind the clothing line Thuy. "These are brands that are household names."
Diep is one of hundreds of designers unveiling fall collections at New York's semi-annual Fashion Week which ends on Friday.
Amy Silver and Maureen Moser, who own a specialty boutique called Entree in Port Washington, New York, say they attend to get to know new designers. While they typically pick out five new designers, this year they are adding only three.
"You just have to be more careful at the moment, until the economy recovers," said Silver, whose well-heeled clientele have been hit by the crashing stock market, credit squeeze, job losses and the alleged scam by Bernard Madoff.
Among the new designers they are adding is Mara Hoffman, whose collection focused on flowing dresses and tunics in bold, colorful prints.
"I like her look, the price point is reasonable and I know her representative," Moser said.
The need to forge close relationships means young designers are more eager than ever to work closely with buyers and adjust their collection and prices if needed.
"If something doesn't work for a vendor, we don't take 'no' for an answer. We'll stay up late tonight and get it the way that they want it," said Danielle Snyder, who founded the jewelry line DANNIJO with her sister Jodie.
But it is a struggle. "People are not buying the way that they usually buy. People are watching shows and taking notes and not making orders," she said.
A celebrity endorsement can go a long way. Jason Wu, a 26-year-old designer, became practically a household name last month after first lady Michelle Obama wore his dress at the inaugural balls.
Versatility also has become key. "People will pay for a good piece, as long as they can wear it for more than one occasion," said Silver.
And with fewer people willing to fork over small fortunes for costly pieces, new designers are finding a need to pay attention to the business end as much as the creative side.
"A lot of designers come out and they just want to do the runway and they spend all their money on the runway. It's more important to boost sales," said Nicholas Kunz who, with her brother Christopher, designs the Nicholas K line.
Other young designers are opting to bypass stores altogether to keep costs low.
To-Tam and To-Nya Ton-Nu, twin sisters promoting their clothing line, Sachika, are selling exclusively online. "It's challenging," said To-Nya. "You just have to be creative."
© Thomson Reuters 2023 All rights reserved.