If it's Thanksgiving, you must be shopping
Nov 25 - Forget the turkey and the football -- if it's Thanksgiving, why aren't you shopping?

U.S. retailers trying to squeeze every extra cent out of shoppers are opening for Thanksgiving on Thursday, trying to get a jump on the holiday shopping season.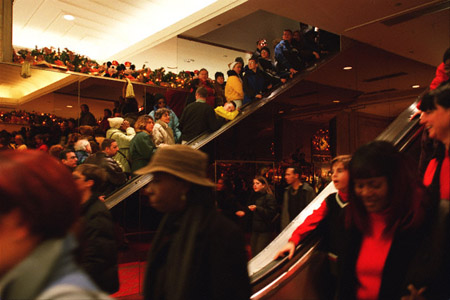 On what is known as the busiest shopping day of the year, shoppers crowd a department store in NY on the day after Thanksgiving
Among the retailers that will open on Thursday are Wal-Mart Stores Inc's U.S. discount stores, 850 of Gap Inc's Old Navy stores, as well as some of its Gap and Banana Republic stores; and Sears Holdings Corp's namesake department stores, and Kmart discount stores.
For retailers, opening the stores amount to extra sales at the start of what is expected to be the best holiday shopping season since 2007 -- before falling home prices, tight credit and soaring unemployment forced consumers to cut spending. The holiday season is essential for many retailers, who depend on it for a big part of their profits for the year.
But people shopping on Thursday will still only be a fraction of the 138 million the National Retail Federation hopes to see on Black Friday, the next day.
"It's an add-on," Brian Sozzi, an analyst at Wall Street Strategies, said of stores opening on Thanksgiving Thursday."If one of the retailers that is open on Thanksgiving has a bad day, I don't think it is going to make or break the season."
More than 18 million adults went shopping on Thanksgiving day in 2009, according to a survey from the National retail Federation.
"Our decision to stay open on Thanksgiving Day was based on our customers' response and desire to have an extra day to shop," David Friedman, president of marketing, Sears Holdings, said in a statement earlier this month.Sears, which saw sales at its namesake department stores plunge in the latest quarter, has opened stores on Thanksgiving for the first time in a bid to halt that slide.
Moody's Investors Service senior analyst Charlie O'Shea said a Sears store in New Jersey about 25 miles west of Manhattan he visited was offering steep discounts, particularly on apparel, on Thursday."This is the most aggressive I've seen them be," he told Reuters as he toured malls and strip centers in New Jersey to gauge shopper traffic. For example, he said, a $25 thermal shirt for men was going for $10. And Sears was offering an extra 5 percent off on purchases made on a credit card.
Consumers, who account for about 70 percent of the U.S. economy, appear to be in the mood to shop. On Wednesday, the government reported a 0.3 percent increase in personal spending in October, compared with the previous month.
Other signs the economy might be gaining steam include a two year-low in a closely watched measure of jobless benefits.
For the holiday season, the NRF has forecast a 2.3 percent increase in sales for November and December, up from 0.4 percent a year earlier. Other forecasts call for even greater increases.
The optimism spread to the stock markets on Wednesday as many retail stocks rallied on hopes the holiday season will be even better than expected.
Amazon.com Inc rose 5.4 percent, Tiffany & Co rose 5.3 percent and Target Corp rose 3.6 percent. The Standard & Poor's retailing index rose 2.6 percent on Wednesday to its highest close in 3-1/2 years. Some of the deals offered on Thursday include a 58-inch Panasonic plasma TV, and two bonus Blu-ray DVDs, for $1,099 at Sears, a savings of more than $700 from the regular price. Kmart will have a Magellan navigation system for $74.99, a saving of $55.
But Thanksgiving shopping is not for everybody, analyst Sozzi added."It's somebody who must have gotten their cooking done early, or it's a single person who is looking for a deal," he said. "There's going to be better deals on Friday."
(Reporting by Brad Dorfman, additional reporting by Phil Wahba in New York; editing by Andre Grenon)
© Thomson Reuters 2022 All rights reserved.