Iconic Palestinian headdress brings colourful clash to Beirut
BEIRUT, Dec 8, 2008 (AFP) - The iconic black and white keffiyeh, or Arab headdress, famously donned by late Palestinian president Yasser Arafat has hit the streets of Beirut in a rainbow of colours -- much to the chagrin of older Palestinians.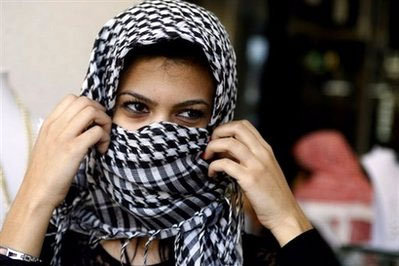 Photo : Joseph Barrak/AFP
Stylish youngsters, both men and women, can be seen in the city's chic cafes and restaurants sporting red, blue, pink, brown and purple versions of the keffiyeh.
Western and Arab tourists are also snapping up the hip item.
The trend, however, is seen by many here as an insult to a symbol traditionally linked to the Palestinian cause.
"These colours aren't for us... it's nonsense, it's a fashion show," said Salim Ali Kayd, 74, who has been a Palestinian refugee in Lebanon since 1948, when Israel was created.
"The keffiyeh stands for a person's honour and manhood. It was a rite of passage to wear one upon reaching the age of 18," he added explaining the customs of his generation.
Others like him living in the narrow alleyways of the Shatila refugee camp on the outskirts of Beirut are also upset that their national symbol has become a fad.
"Yasser Arafat used to wear it for a reason. It means something," said Kalthoum Ghandour, a 45-year-old Palestinian doctor living in Lebanon.
"It was what the revolutionaries wore to conceal their identity," she added. "This is our revolution, our symbol.
"This trend distorts our heritage."
Shops in Beirut's diverse Christian and Muslim neighbourhoods are selling the bright-coloured items imported from Syria, Thailand and China.
A backlash against the trend has spread to college campuses in Lebanon, where Facebook groups have sprung up called "Palestinian scarf: Understand it or don't bother wearing it!" and "I refuse to let the keffiyeh become a high fashion statement".
-- 'This trend distorts our heritage' --
----------------------------------------
This is not the first time the keffiyeh has been co-opted by others. The garment has come in and out of fashion, with youths in the 1960s and 1970s wearing it as a sign of revolt or sympathy with the Palestinian cause. The scarf has also become a signature item for anti-war activists.
While the latest trend may be more accessory and less ideology -- the keffiyeh's powerful symbolism continues to resonate, and not only among Palestinians.
The issue grabbed headlines in recent months when the Dunkin' Donuts chain came under fire for an online ad that featured an American celebrity chef wearing a paisley patterned scarf that some mistook for a keffiyeh.
The ad was pulled after a conservative US commentator complained that it promoted jihad.
The US clothing store Urban Outfitters this year also stopped selling coloured versions of the keffiyeh because of controversy.
"They used to wear it around their necks and now they are wearing it around their waists. What's next?," said Haitham, 28, a Palestinian refugee who did not reveal his last name.
Dana, 25, said she recently purchased a blue version of the keffiyeh and maintains that the garment carries no political symbolism.
"I used to wear the white one when I would go to protests in college," she said. "These ones are a pure fashion statement.
"I got the blue colour because my eyes are blue," added Dana, who did not want her last named used. "Nonetheless people who hate Palestinians shouldn't wear them."
Some young Palestinians, however, are proud to see the craze gather steam.
"I have about 10 of them... The keffiyeh belongs to us no matter its colour. I am happy they have become popular," said Ahmed el-Hassan, 22.
Keffiyehs are hard to come by in Lebanon's 12 Palestinian refugee camps that house an estimated 400,000 refugees. They cost on average five dollars but some high-end designers in Lebanon are selling them for over 100 dollars.
"The original one was white and black," el-Hassan said. "These might be copies but they're still called keffiyeh which represents Palestine's heritage."by Rima Abushakra
Copyright © 2022 AFP. All rights reserved. All information displayed in this section (dispatches, photographs, logos) are protected by intellectual property rights owned by Agence France-Presse. As a consequence you may not copy, reproduce, modify, transmit, publish, display or in any way commercially exploit any of the contents of this section without the prior written consent of Agence France-Presses.