Huge Macy's parade crowd for beloved - and bizarre - balloons
NEW YORK (Reuters) - Gigantic balloons floated down New York streets for the 85th Macy's Thanksgiving Day Parade on Thursday, drawing huge crowds to sidewalks and an even bigger audience to television sets, a parade spokesman said.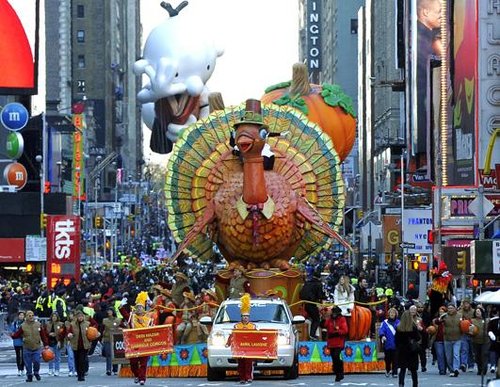 The Thanksgiving Turkey float makes its way through Times Square, during the 85th Macy's Thanksgiving Day Parade in New York, Nov. 24, 2011. The parade has been an annual event since 1924. / Photo: AFP
"We expected 3.5 million people at the parade and I'd say we were north of that," said Orlando Veras, Macy's spokesperson.
Police declined to confirm the numbers, saying they do not release crowd estimates.
Veras said 50 million TV viewers were expected to watch the enormous helium balloons shaped like Snoopy, SpongeBob SquarePants and other beloved characters towed from Central Park to Herald Square in midtown Manhattan.
Offbeat new additions in the parade's 85th year included designer Paul Frank's sock monkey "Julius" and film director Tim Burton's "B.", a creepy but cute boy stitched from discarded birthday balloons.
Temperatures headed toward 60 degrees and virtually windless skies made for perfect parade conditions, a magnet for crowds, Veras said.
"We had a great parade today. I've done this for 11 years and these were the biggest crowds I have seen," he said.
Children and adults jammed sidewalks and side streets to watch the 8,000 people who participated in the parade. The show included 11 marching bands, 800 clowns, 1,600 cheerleaders, dancers and singers, crews manning 27 floats and handlers for 15 giant balloons and 44 other mid-sized balloons, Veras said.
(Reporting by Barbara Goldberg; Editing by Ian Simpson)
© Thomson Reuters 2022 All rights reserved.