Hollywood designer backs billionaire's Karstadt bid
DUESSELDORF, Germany, May 25 (Reuters) - U.S. celebrity fashion house BCBG Max Azria Group is backing the bid led by billionaire Nicolas Berggruen for insolvent German department store chain Karstadt.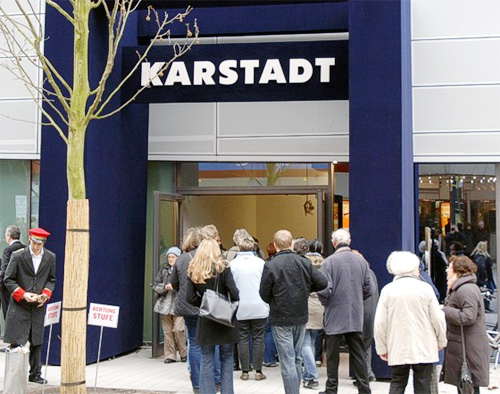 Karstadt
A spokesman for Berggruen said on Tuesday 25 May Azria was supporting Berggruen's bid, which he launched late on Friday 21 May.
Berggruen has joined European buyout firm Triton in the race to acquire Karstadt, which was part of German tourism and retail group Arcandor (AROG.DE) which filed for insolvency in June.
The Highstreet consortium, which owns most of Karstadt's property and is led by Goldman Sachs (GS.N), is also planning to launch a bid, media reports said over the weekend.
The creditor committee gave interested parties until Friday 28 May to tender an offer for Karstadt, one of the best known stores in Germany and a common downtown sight in any large German city.
Max Azria founded the fashion house in 1989. Its couture gowns are worn by Hollywood stars such as Sharon Stone, Halle Berry and Demi Moore. The group bought Herve Leger in 1998 and launched a collaboration with teen star Miley Cyrus last year.
Berggruen Holdings is a private equity firm founded in 1986 with a social and cultural investment focus, according to its website.
Berggruen, dubbed the homeless billionaire for living in hotels after giving up most of his possessions, has a diverse investment strategy from injecting cash into Spanish media group Pisa to the restoration of Berlin restaurant Cafe Moskau. (Reporting by Matthias Inverardi; Writing by Eva Kuehnen; Editing by David Holmes)
© Thomson Reuters 2022 All rights reserved.