Holiday sales view still weak after weekend rush
By Martinne Geller
NEW YORK (Reuters) - Consumers made repeat trips to U.S. stores and spent more on bargains this holiday weekend, but the early rush is unlikely to save retailers from a bleak sales season, analysts said on Sunday.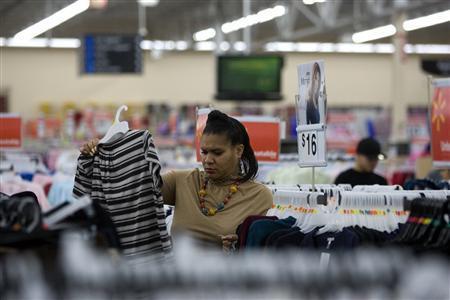 Early results from the Black Friday weekend that kicks off holiday shopping showed that sales grew both in stores and online, fueled by repeat trips, heavier online sales and deep discounts from retailers across the price spectrum.
Investors may look positively on the data when retail shares begin trading again on Monday, viewing it as a sign that consumers are still spending despite the worst financial crisis since the Great Depression.
But industry groups and analysts said the Black Friday numbers did not change their view that 2008 will be the weakest holiday sales season in years.
"We take all of this into context and realize Black Friday is not going to save the holiday season," National Retail Federation spokeswoman Ellen Davis said. "Regardless of retail sales, retail profits are another matter. Everything they sold was at a razor-thin margin."
According to the NRF, shoppers spent an average of 7.2 percent more per person at nearly $373 during the four-day holiday weekend from U.S. Thanksgiving on Thursday through Sunday. Total spending was $41 billion.
More than 172 million shoppers visited stores and websites during that time, up from 147 million a year ago, the NRF said. Excluding repeat visits, the number of people who shopped over the weekend rose to 110 million from 99.5 million.
The NRF kept its forecast for total holiday sales growth of 2.2 percent to $470.4 billion, which would make 2008 the weakest holiday season in six years. Other analysts have forecast sales could be their weakest in nearly two decades.
The NRF said consumers completed more of their shopping during the Black Friday weekend this year than in the past. Momentum is likely to drop sharply in the coming weeks and stores may need to offer even more aggressive discounts.
The NRF data comes from a poll of 3,370 consumers conducted by BIGresearch from Thursday through Saturday and includes consumers' shopping plans for Sunday.
WINNERS AND LOSERS
Investors "may see (the weekend's data) as supportive of some stability in the consumer, but we believe that is not the case," said Richard Hastings, a consumer strategist with Global Hunter Securities LLC, Hastings.
He expects about 1 million U.S. jobs to be lost during the holiday period of November, December and January, with retail sales falling 6 percent to 8 percent in that time.
"That would put this cycle on track to compete with 1974 as one of the worst layoff cycles during a holiday season," he said.
According to the NRF, more than half of this weekend's shoppers visited stores and websites of discount chains such as Wal-Mart Stores Inc and Target Corp, lured by eye-popping bargains like a 42-inch Polaroid LCD high-definition television for $699.98 on Walmart.com.
Other areas that did well, NRF said, were specialty chains that sell electronics, such as Best Buy Co Inc, and chains that sell apparel, such as Aeropostale Inc.
Sales of women's sweaters, jeans and boots were strong at several of Taubman Centers' malls, as well as gadgets including GPS systems, MP3 players and Nintendo Co's Wii game console. Apple's iPod topped online best-seller lists through the weekend as well.
Taubman, which owns or manages 24 U.S. shopping centers, gathered anecdotal information from a sampling of stores.
Michael Unger, principal in the retail practice at Archstone Consulting, said an Apple Inc store in New Jersey "was packed" on Friday, a sign that electronics score high on this year's holiday wish-lists.
Meanwhile, he said luxury brands are likely to take a hit.
"Those that don't discount to protect their brands will have a tougher time," Unger said, referring to prestige names such as Gucci and Chanel. "The consumers that usually shop there are the ones that are now at the Bloomingdale's 40-percent off rack or the Neiman Marcus discount rack."
Diane Leeds, 40, of Sacramento, who was shopping at a California Saks store on Sunday morning, said she was surprised to see deep discounts on designer names like Diane Von Furstenberg, Gucci and Valentino.
"These are the types of deals you see after Christmas," she said, holding up a colorful Von Furstenberg wrap top that was 50 percent off. "I've never seen racks and racks of those designers."
MORE SHOP ON THANKSGIVING DAY
In a highly competitive battle to attract shoppers, some retailers, including Kmart, opened on Thanksgiving Day or began offering deals on the holiday, attracting higher traffic to stores and online than in previous years.
Others began sales on Friday right after midnight or extended their "doorbuster" deals through Saturday.
ShopperTrak, which tracks customer traffic at stores, said Black Friday sales rose 3 percent to $10.6 billion. That was slower than an 8.3 percent rise in 2007.
Online sales for Black Friday rose 1 percent to $534 million, said web tracking firm comScore on Sunday. For the first 28 days of November, $10.41 billion was spent online, marking a 4 percent decline versus the corresponding days last year, it said.
But Hastings warned against using the Black Friday data as a measure for the rest of the holiday season.
"Anything that attempts to use Black Friday to extrapolate and interpret the rest of the holiday season is not correct," he said. "Much more information will be needed."
(Additional reporting by Aarthi Sivaraman and Michele Gershberg in New York and Alexandria Sage in San Francisco; Editing by Bernard Orr and Jan Paschal)
© Thomson Reuters 2023 All rights reserved.