High-end retail shunned by investors favoring bargains
August 11 - Goodbye jewelry and $100 yoga pants. Hello discount retailers: As the U.S. stock market slides in and out of correction territory, consumers remain cautious and investors are acting as if it is 2008 again -- unloading stocks of higher-end retailers including Tiffany & Co, Saks Inc and Lululemon.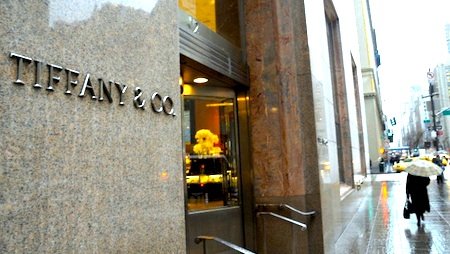 A pedestrian walks past Tiffany & Co. in New York - photo: corbis
"I've really always been looking for a bargain, but on a high-end thing, it's going to have to be a bigger bargain to be able to make the purchase," Melanie Yoder, 40, a nurse from Chicago who works in the medical devices industry, said of how her behavior has changed since the 2008/2009 recession.
Yoder, who was leaving a Saks store on Michigan Avenue with a Saks shopping bag on Monday as the Standard & Poor's 500.SPX was falling 6.6 percent, may be disappointed by the discounts this time around.
Retailers have grown more accustomed to keeping inventories lean and cutting costs, which could keep top-tier stores like Saks from having to result to the bargain-basement discounts of the last recession.
"There is absolutely a risk of having to discount, but it wouldn't be as a dramatic as in 2008 when store chains were ordering a lot to fuel growth," Paul Swinand, a retail analyst at Morningstar, said.
In the past several days, the market was betting that shoppers would pull back and return to discount stores.
In volatile markets since Friday, shares of Saks were down 7 percent; Lululemon fell 9.9 percent and Tiffany's shares were 2.2 percent lower. On the other side of the spending spectrum, the stock of discounter Wal-Mart Stores Inc was up 1.44 percent and rival Target Corp rose 2.6 percent, as investors expect discretionary spending to be curtailed, while falling gasoline and commodity prices help lower-income shoppers.
Some of the higher-end retail stocks went into last week "priced to perfection," Wall Street Strategies analyst Brian Sozzi said. That left them vulnerable to any cutback by higher- end shoppers -- and those that aspire to the higher end.
"If you are priced to perfection, everything has to be good," Sozzi said. "When everything is good for Lululemon, people are buying two pairs of yoga pants and two T-shirts."
The S&P 500 rebounded 4.7 percent on Tuesday. But the same day the Federal Reserve said U.S. economic growth was proving to be considerably weaker than expected, suggesting inflation, which has already moderated recently, will remain contained for the foreseeable future.
"I see myself doing a lot of saving at this point, until the economy actually gets back right, which is not going to be too soon," Antoine Sykes, 37, a security officer at the Willis Tower in Chicago said. "I have a daughter going to college. A lot of my big spending, my big shopping is on hold until she has everything she needs."
As growth slows, demand for oil and other commodities wanes, sending prices lower. For example, crude oil traded in New York is down 14 percent so far this month.
The drop in commodity prices could be welcomed news for lower- to middle-income consumers in a two-pronged economy where they have been steadfastly frugal, while the upper-income shopper spends.
"That's presumably boosting discretionary power for the middle- to lower-income consumers," Michael Niemira, chief economist at the International Council of Shopping Centers, said of the commodity price drops.
But consistently high unemployment, a weak economy and a volatile stock market continues to affect consumer spending, cutting into big-ticket purchases.
"It's something that makes you think twice before making any big purchases, like for a mortgage for a house or even for automobiles," Wilson Aguilar, 38, a business analyst for J.P. Morgan in Chicago said.
Smaller expenditures have been hit as well. U.S. cable and satellite TV providers lost more subscribers than ever in the second quarter.
Still, analysts believe that even if the economy were to fall into another recession, the shock to the consumer would not be as bad as it was in 2008, when some people felt the need to be more discreet about openly displaying signs of wealth.
"I don't think people are going to be worried about going out to a restaurant with a Gucci bag."
(Additional reporting by Eunju Lie in Chicago and Dhanya Skariachan in New York; Editing by Maureen Bavdek)
© Thomson Reuters 2023 All rights reserved.