GSI Commerce Q4 rev up; to buy online retailer
Feb 9 (Reuters) - Retail website operator GSI Commerce Inc posted strong quarterly sales helped by robust product sales and said it would buy online retailer Fanatics Inc in a cash-and-stock deal worth $277 million to strengthen its position in licensed sports merchandise.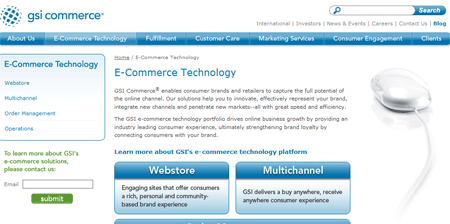 Global Sports Inc's website
The company, which competes with Amazon.com Inc in e-commerce, said the deal includes a cash payment of $171 million and $106 million of GSI common stock.
GSI Commerce expects the deal to add to 2011 adjusted earnings from operations.
It forecast 2011 sales of $1.80 billion. Analysts on average were looking for $1.79 billion, according to Thomson Reuters I/B/E/S.
GSI Commerce, formerly known as Global Sports Inc, posted fourth-quarter net income of $15.9 million, or 23 cents a share, compared with net income of $23.6 million, or 38 cents a share, last year.
Quarterly revenue rose 25 percent to $537 million helped by a 25 percent jump in product sales.
Shares of the King Of Prussia, Pennsylvania-based company, which have lost 14 percent in the last three months, were up 3 percent at $23 in extended trade. They closed at $22.24 on Wednesday on Nasdaq.

(Reporting by Saqib Iqbal Ahmed in Bangalore; Editing by Don Sebastian)
© Thomson Reuters 2023 All rights reserved.