Great Panther Q2 silver production rises
Canada's Great Panther Silver Ltd (GPR.TO: Quote) reported higher second quarter production and said new equipment delivered in the first half of the year would lead to a significant increase in output in the latter half of the year.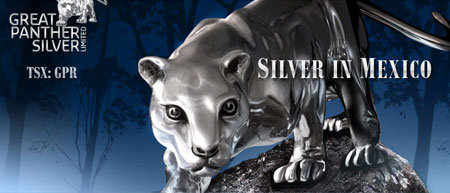 www.greatpanther.com
The limited company is one of the fastest growing primary silver producers in Mexico with strong leverage to future rises in the price of silver.
The Vancouver, British Columbia-based company said combined silver production -- at its Mexican silver mining operations in Topia and Guanajuato -- in the current second quarter totaled 410,583 ounces.
It had produced 333,358 ounces of silver in the prior quarter.
Great Panther Silver also said the impact of the new equipment is expected to enable continuous production improvements throughout the rest of the year.
Shares of the company closed at 73 Canadian cents Monday on the Toronto Stock Exchange.
(Reporting by Isheeta Sanghi in Bangalore; Editing by Vyas Mohan)
© Thomson Reuters 2023 All rights reserved.